We first learned about this particular phenomenon in Lake Wales two years ago while looking for places to visit.
But it was just a couple of months ago when we were finally up for it and decided to check it out. We were already in the area since it wasn't part of our original stop that day.
I personally had been reading a lot about whether or not this could be real. Is it gravity? Paranormal energy? Optical illusion? Or is it something else – or nothing at all?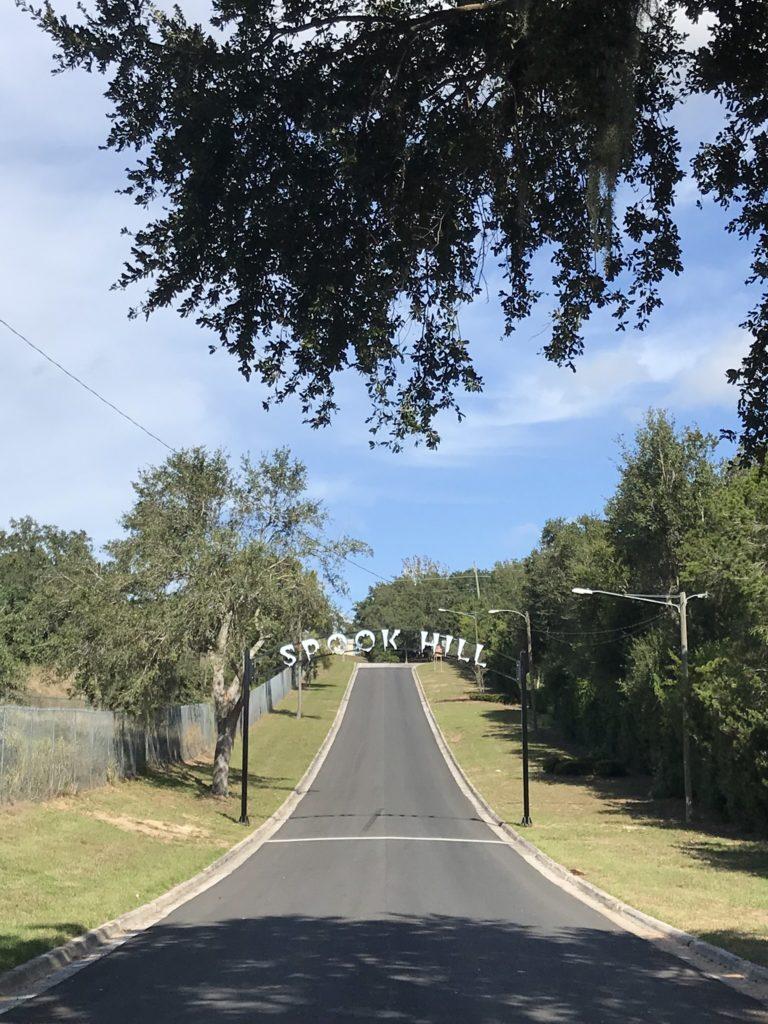 A phenomenon in Lake Wales – Optical Illusion?
The Legend of Spook Hill
Legend says that ages ago, a Seminole Chief who had settled in an Indian town in Lake Wales, was killed in a final battle along with gators that had plagued the lake.
Later on, Pioneer Haulers found the horses from the Indian town laboring at this spot – at the foot of the ridge – and they called it Spook Hill.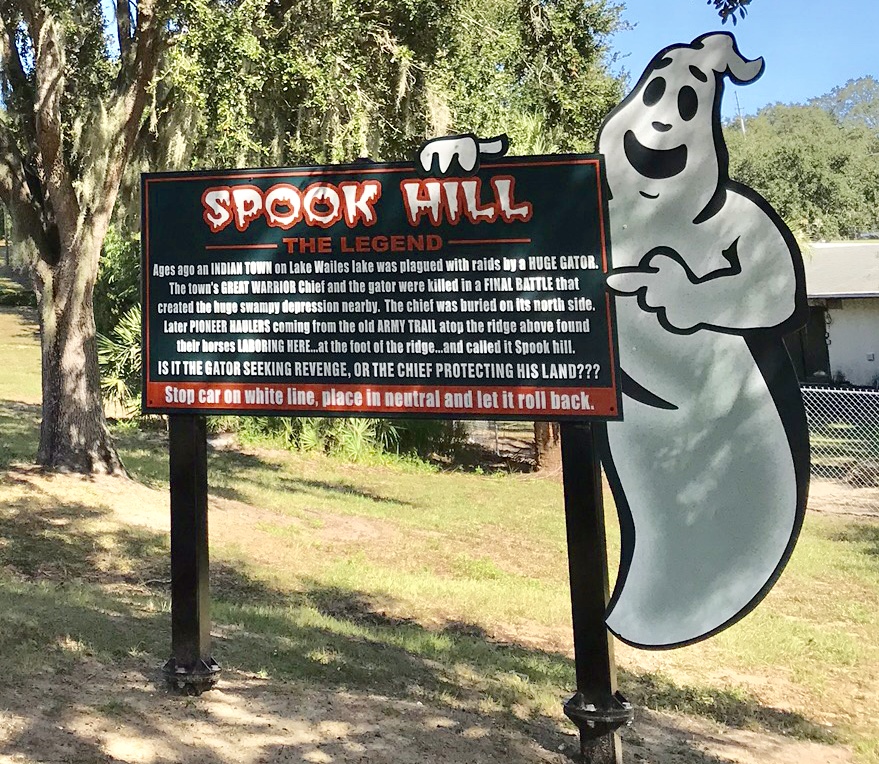 I learned that this phenomenon in Lake Wales had been mentioned in plenty of sites as something to see/do in Lake Wales. Yet, it's really much more of a creepy legend than it is an actual tourist attraction.
Spook Hill, as it has been named, gained quite the national attention after it had been featured in the Wall Street Journal in 1990.
It's also located across the street from Spook Hill Elementary which curiously enough, adopted Casper The Friendly Ghost as their school mascot. If you take a look at the school's website, you'll even see their slogan that reads "Catch the Spirit".
Spook Hill is also commonly referred to as a magnetic hill or gravity hill.

How does Spook Hill Work?
The way it works is that when a car is placed in neutral, it will feel as if it were going uphill – on its own. Indeed, it's pretty much what happened when we went.
As soon as we arrived at Spook Hill, we noticed the white line marked in the street from side to side.
And like it's always been said… 'x marks the spot'.
It's right in this line where you must stop and put your car in neutral.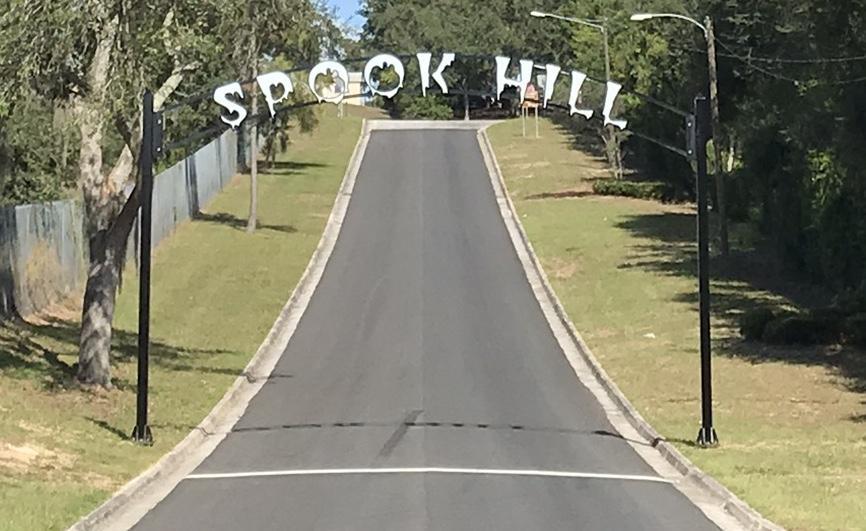 We followed what the sign said and within seconds, we could feel our van moving slowly uphill.
At first, we were in a bit of shock and disbelief – to say the least. Afterwards, we couldn't stop laughing and thinking "How in the world did this happen?". 
Believers and non-believers, we're pretty sure you'll be wondering the exact same thing after going to Spook Hill!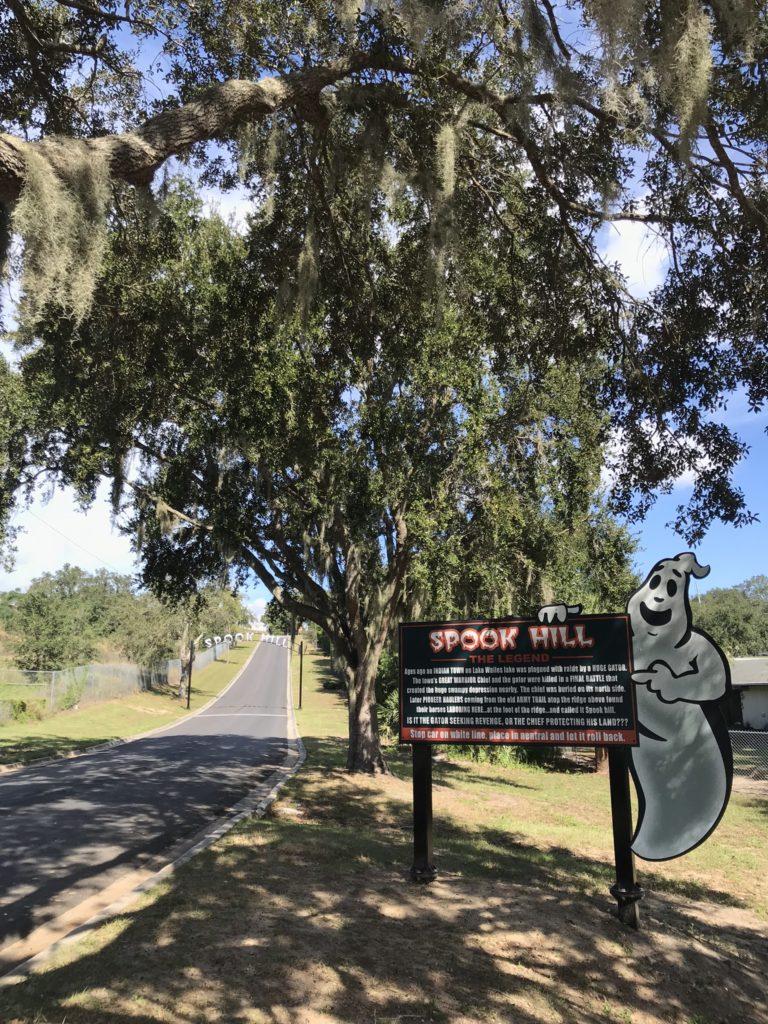 Would you give Spook Hill a visit and try to understand what it's still left unexplained?
Share with us in the comments section. 
Plan your visit
Hours: At your own risk! (public area)
Fees: Admission free (not an attraction)
Like it? Share it! Pin it!