NOTICE: In the midst of what's going on around the world, we encourage you to practice social distancing and to adhere to all safety protocols. We do not expect you to visit these places right now, and we are not, in any way, encouraging you to do so. We do, however, choose to continue sharing the beautiful places that we have been able to visit thus far, as proud supporters of local travel. Take notes and have these destinations on hand for your future travels!
Road Trip to The Falls
Standing along the historic route of the conquistador Hernando de Soto, most commonly known as the De Soto Trail, I found 'the falls'! They are located in Lake City, which is about a 2 hr 20 min drive from Orlando. Although the first stop of this road trip was in Gainesville, the main attraction was to see the falls.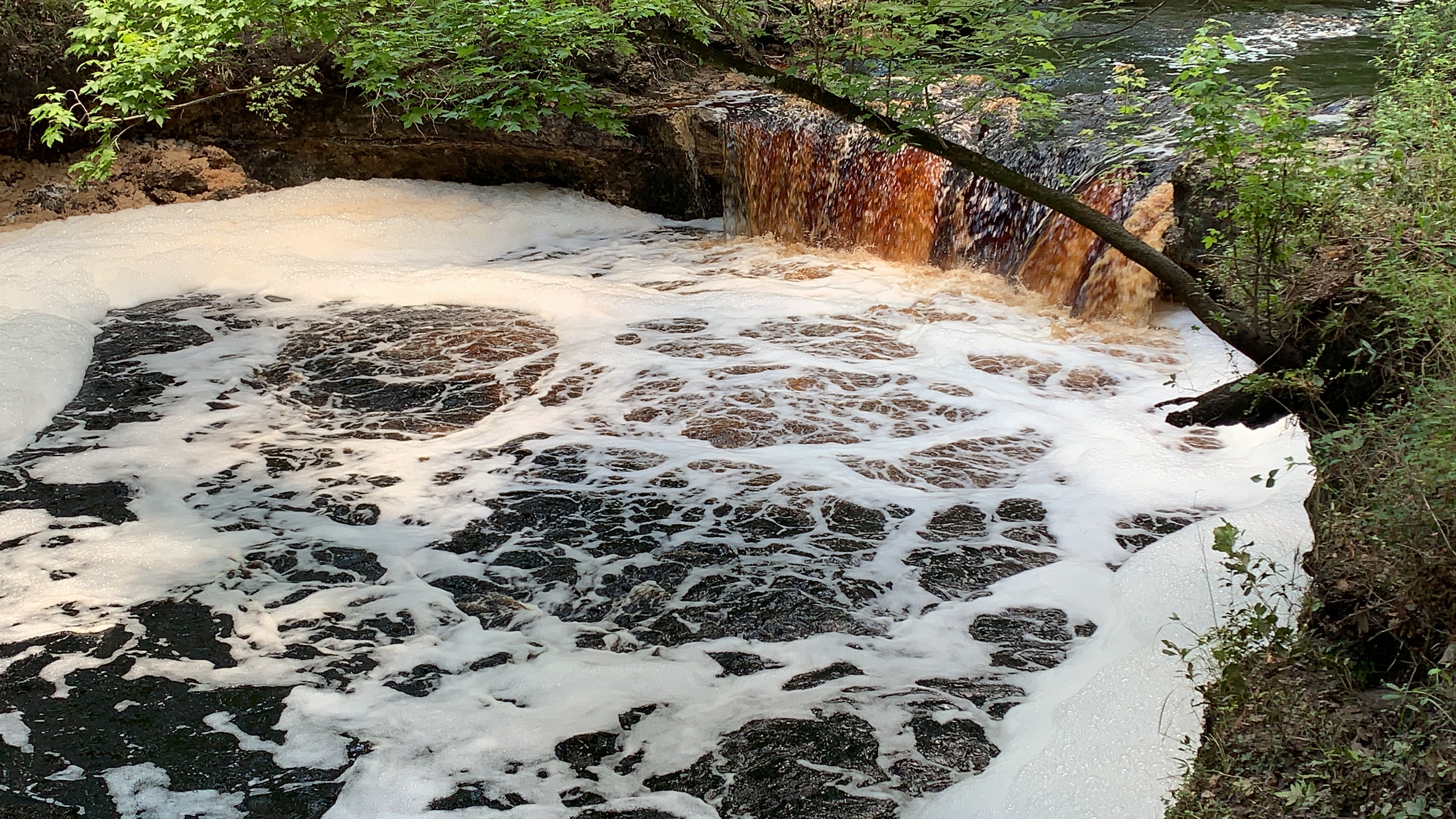 To be honest, I didn't know what to expect from these falls. Having already been to Falling Waters State Park–home to Florida's largest waterfall, I didn't know how big or small these falls were. I mean, of course it wasn't going to be a huge waterfall! Nonetheless, we were super excited to check these 10-foot tall falls off our Florida hidden gems bucket list!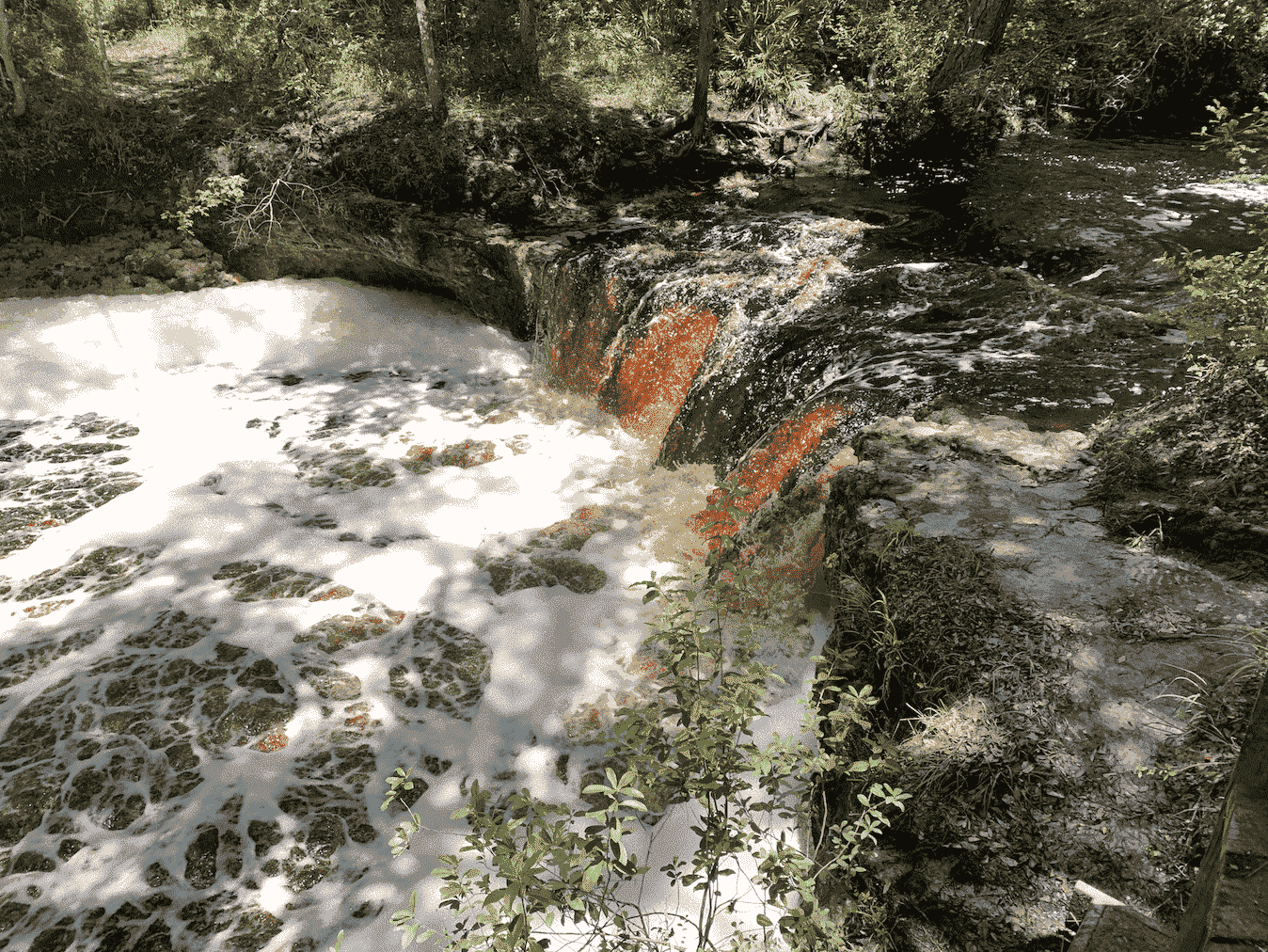 Getting to Falling Creek Falls
To get to the falls, we took I-75. Then, once you're in Lake City, right off of I-75, you will take a detour towards I-10 east. Turn onto NW Falling Creek Road and this will lead you to these beautiful, hidden falls. Once you arrive, you will notice a historic structure, an interpretive sign, and a playground near the trailhead entrance.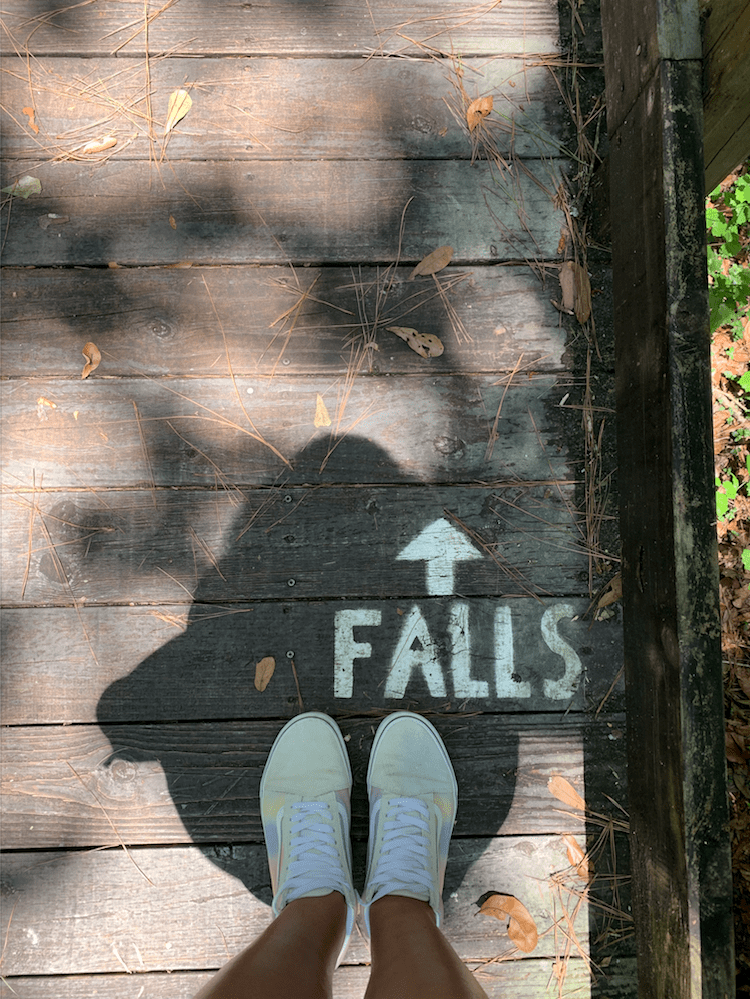 To head to the falls, you will take a short walk–roughly about 5-minutes, through the boardwalk trail. I began hearing the relaxing sound of the falls way before even seeing them. And just the sound of it was so beautiful to hear! Once you get to the end of the trail, you'll reach the observation platform and the waterfall will be on your left.
And there it was! The cola-colored waterfall that left me in awe at first sight. Not because it was super huge, but because it was so pretty! Since it had been raining quite a lot, it was impossible to see the actual drop of the waterfall. I would love to come back and see them when the river level is at the lowest.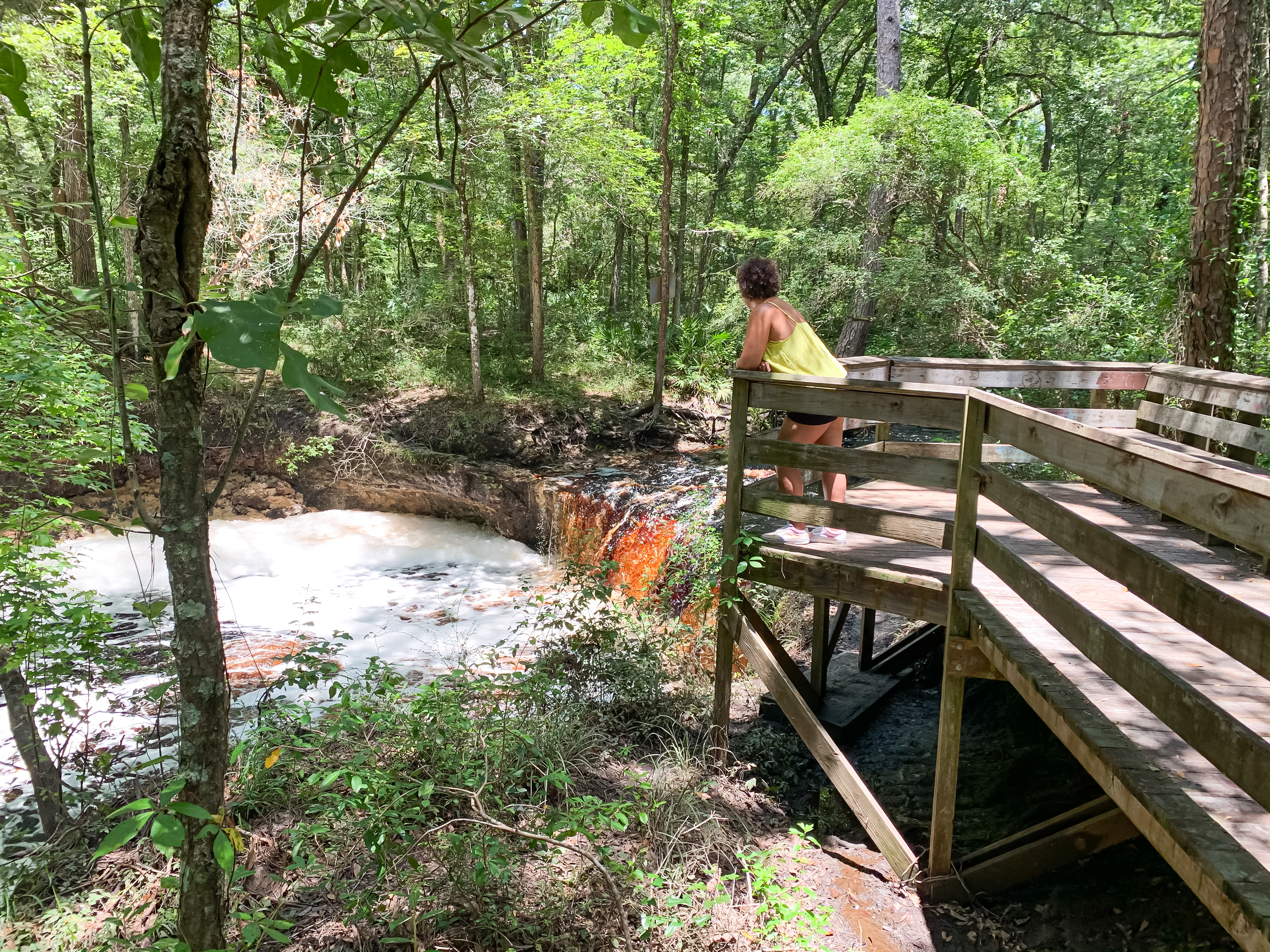 Regardless, the Falling Creek Falls just seemed perfect in every way. Along the boardwalk trail, you will also be able to sit and enjoy the sound of the falls. I do have to mention that you MUST bring mosquito repellent. The mosquitoes, or whatever they are, were insanely annoying. For this reason, I also suggest wearing some sort of hiking wear, preferably with a long sleeve.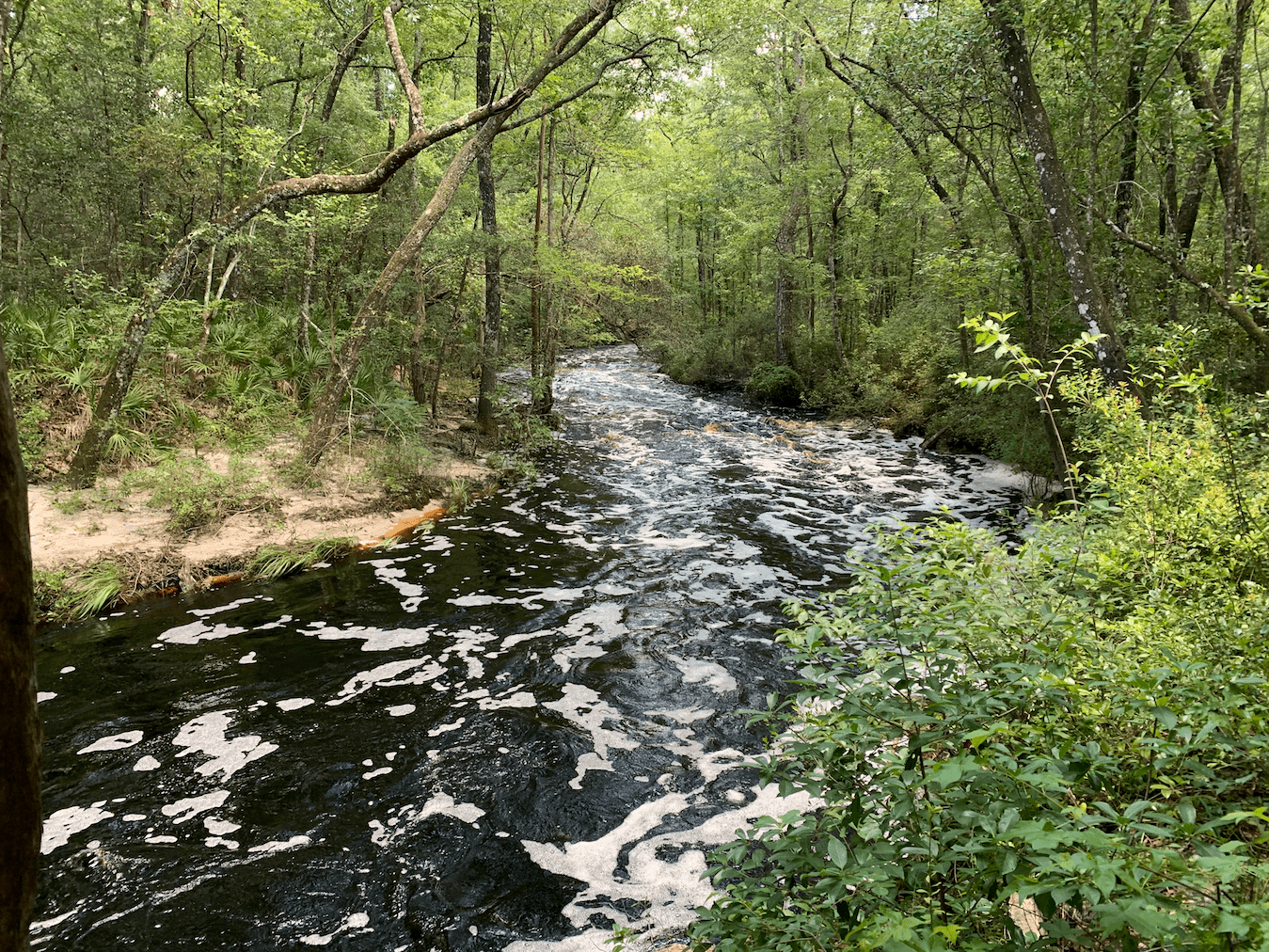 Plan your Visit
COVID-19 NOTICE: Please visit the park's website to stay updated on any notices regarding park hours and capacity protocols that are taking place to ensure proper social distancing.
Fee: No admission fees
Hours: Sunrise to Sunset
Location: 953 Northwest Falling Creek Road Lake City, Florida 32055
---
Like it? Pin it! Share it!