Experiencing the Haunted Places in Florida
I haven't seen it all! There's still so much to learn and see. But one thing is for certain… I've experienced quite the scares at some haunted places in Florida! From seeing ghostly shadows moving around in empty historic houses, to hearing voices at Castillo de San Marcos, and even taking pictures of orbs for the first time at Cassadaga. When it comes to the haunted, I'm interested! I won't get into much detail, but I do believe there are a lot of stories to be told from those that came before us. Whether we choose to believe it or not, that's up to us. Regardless, the word 'haunted' always comes with some extra fun, any time of the year!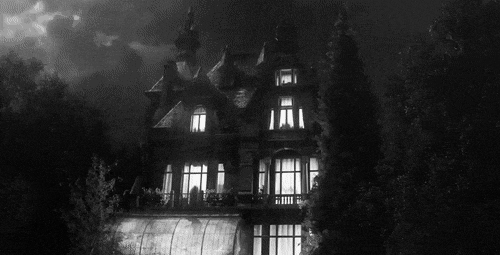 Some Haunted Places in Florida you Should Visit
Believer or non-believer, you can't deny the fact that there are some places that you would describe as plain haunted. As for me, I've had my own share of personal experiences with this whole hauntings thing. Back in 2010, I dealt with the apparition of the 'ghost' of a 4-yr old kid every single night–for two months! But what motivated me to write this post isn't the fact that I believe in this stuff. It's really that I've never talked about the haunted places in Florida that I've seen so far. And with that being said, let's begin!
1. May-Stringer House
When I first saw the May-Stringer House, I said to myself "Wow! What a beautiful, historic house!". But once I walked closer, the whole energy changed. It was closed this day and we weren't able to go inside and visit the museum. Not that I really wanted to, anyway. So this day, we were the only ones there. However, once we got into the car, I looked up at the windows from the attic and saw a shadow staring back at us and moving behind the curtains. Was my mind playing tricks on me? I don't know! But guess what? Months later, I learned that the most haunted room in the May-Stringer House is actually the attic! (insert triple scare).
Oh, one more thing… I'd never seen any funeral home time capsules before. These two are buried right here, in the May-Stringer House. What could be in there? 🤔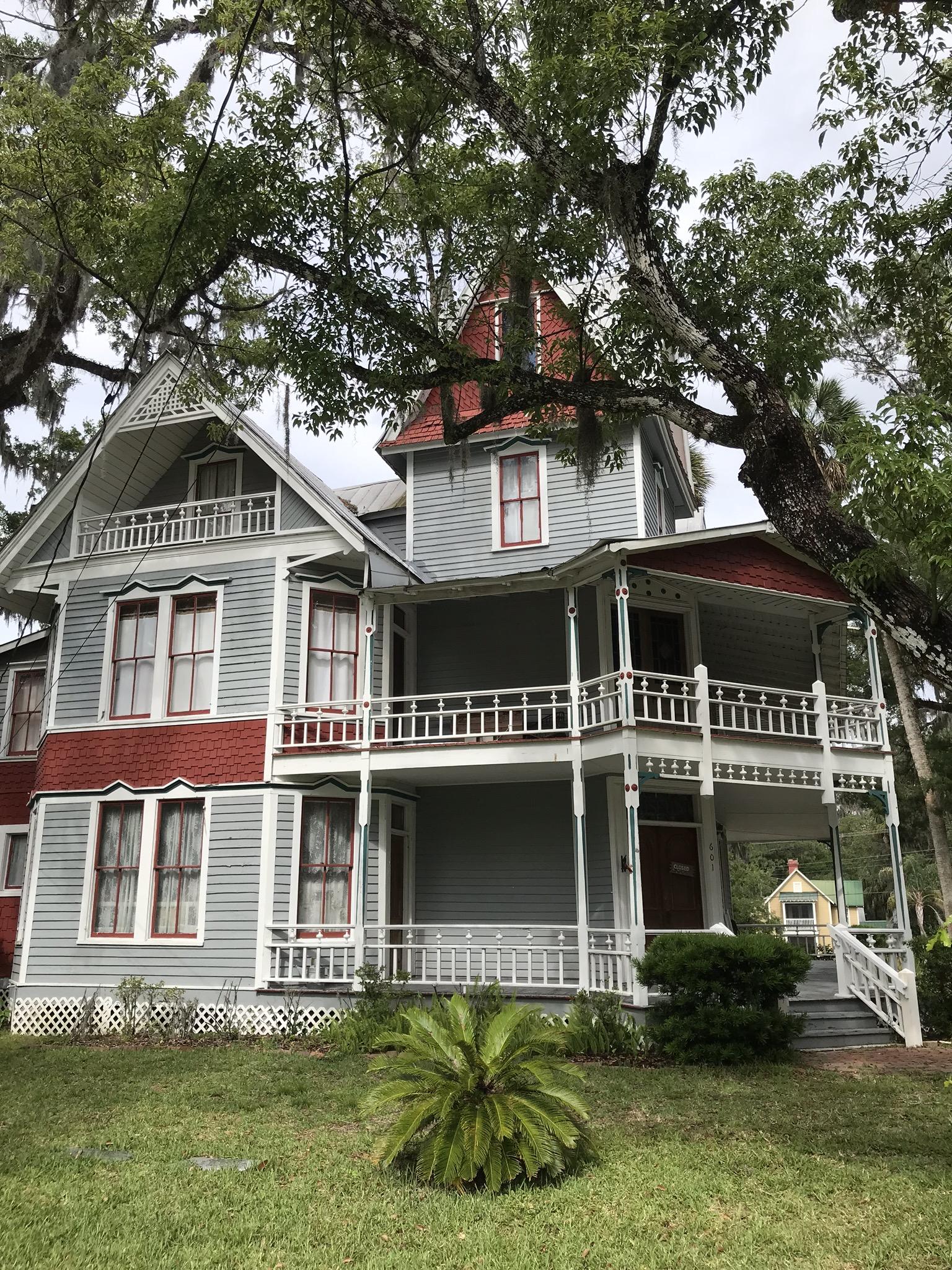 Hauntings at May-Stringer House
The staff has experienced voices in empty rooms, cold spots, eerie shadows, the sound of children's laughter, and glowing orbs.
Plan your visit: Museum is open on Thursday, Friday, and Saturday. Tickets are $5 for adults and $2.00 for children ages 6-12. Visit their website for information and updates.
Address: 601 Museum Court, Brooksville, FL 34601.
2. Cassadaga Hotel
I've been to the mysterious Cassadaga city countless times. And with each time I go, I experience something different. This town is known as the 'The Psychic Capital of the World' for its large concentration of mediums and spiritualists. As for the Cassadaga Hotel–a quaint hotel built in 1927 and it's known to be very haunted. One of the times we were here, we walked over to the hallways and felt a very odd, and chilly cold spot followed by weird sounds–although there was absolutely no one there. As I felt the chills going down my spine, I took this picture and ran out of there. It was super creepy. This hasn't stopped me from going back, though!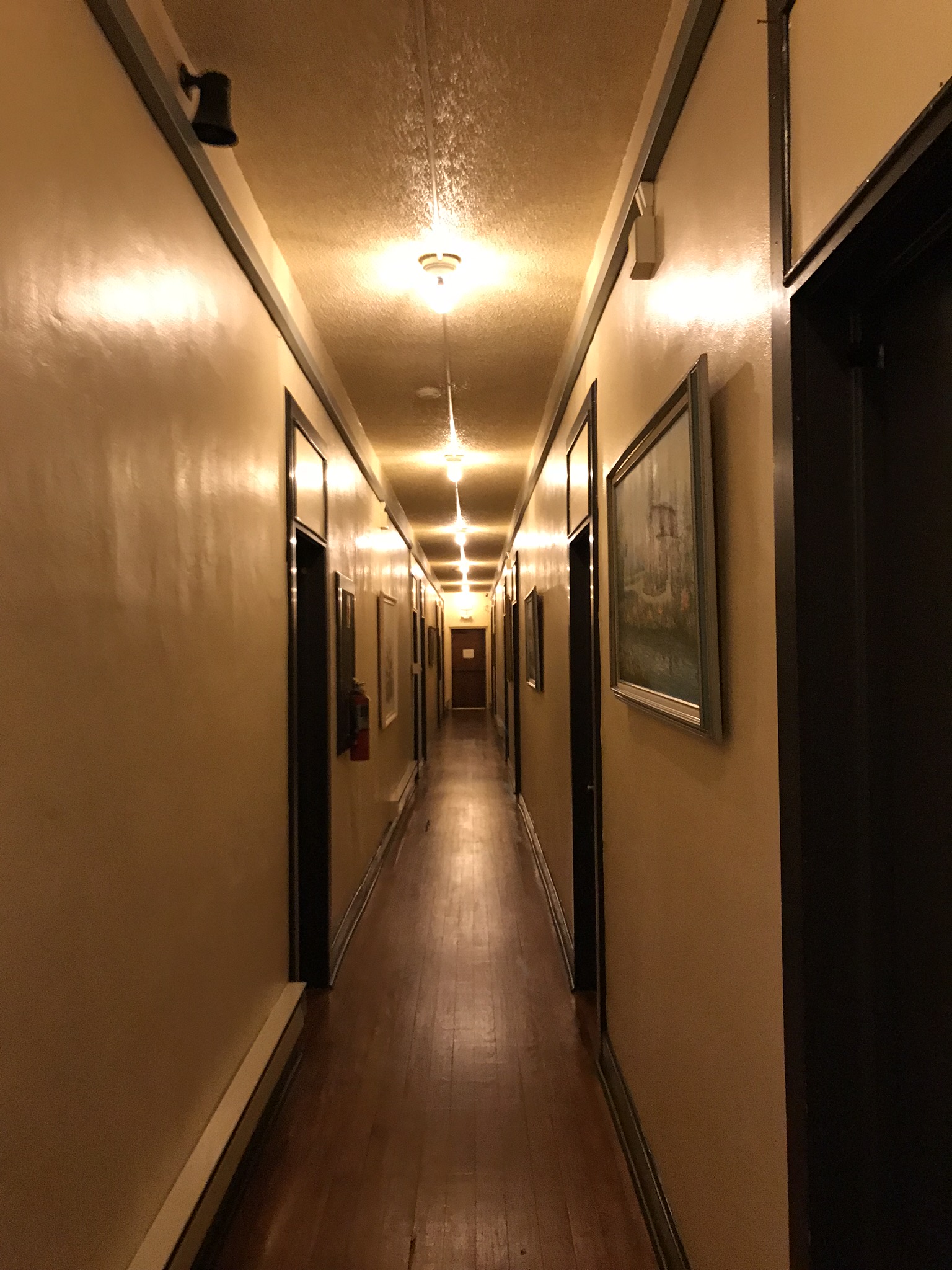 Hauntings at Cassadaga Hotel
According to Haunted Travels USA, one of the most popular ghost stories of Cassadaga Hotel is one of Arthur–an Irish man who lived in the hotel's room number 22, up until the day of his death. Throughout the years, many have experienced the smell of Arthur's cigar, taps on the shoulder when no one is around, objects moving without explanation, and flickering lights.
Address: 355 Cassadaga Rd., Cassadaga, Florida 32706
3. St. Augustine Lighthouse
It had taken me a very long time to finally visit this beautiful lighthouse. I have all the intentions of going back, especially for their Lighthouse Dark of the Moon Ghost Tour. The St Augustine Lighthouse–originally built in 1824, is said to be one of the most haunted places in Florida. It was even featured on Ghost Hunters. There's a couple of the first lightkeepers who apparently don't want to leave the lighthouse. Reported sightings might in fact be related to them.
Hauntings at the St. Augustine Lighthouse
A voice of a woman screaming for help, shadowy figures at the top of the lighthouse, and sightings of many spirits in the lighthouse. The basement of the lighthouse keeper's house is also an active paranormal site.
Plan your visit: Open daily from 9:00 am to 6:00 pm. Tickets for the Lighthouse Museum are $12.95 for adults, $10.95 for children 13 and under. Dark of the Moon Ghost Tours are $25 for adults and $20 for children.
Address: 81 Lighthouse Avenue, St. Augustine, FL 32080
4. The Don CeSar Hotel
I would've really loved to show you a daylight photo of this hotel because it is gorgeous! However, it was during our weekend stay at Fort Myers when we drove to St Petersburg for a night out, which is when I took this picture. Known as the "Pink Palace", this historic hotel built during the "Roaring Twenties" era, was also used as a hospital during World War II. The spirit of Thomas Rowe–the hotel's former owner, is supposedly still lurking around The Don CeSar Hotel. Along with the love of his life, Lucinda.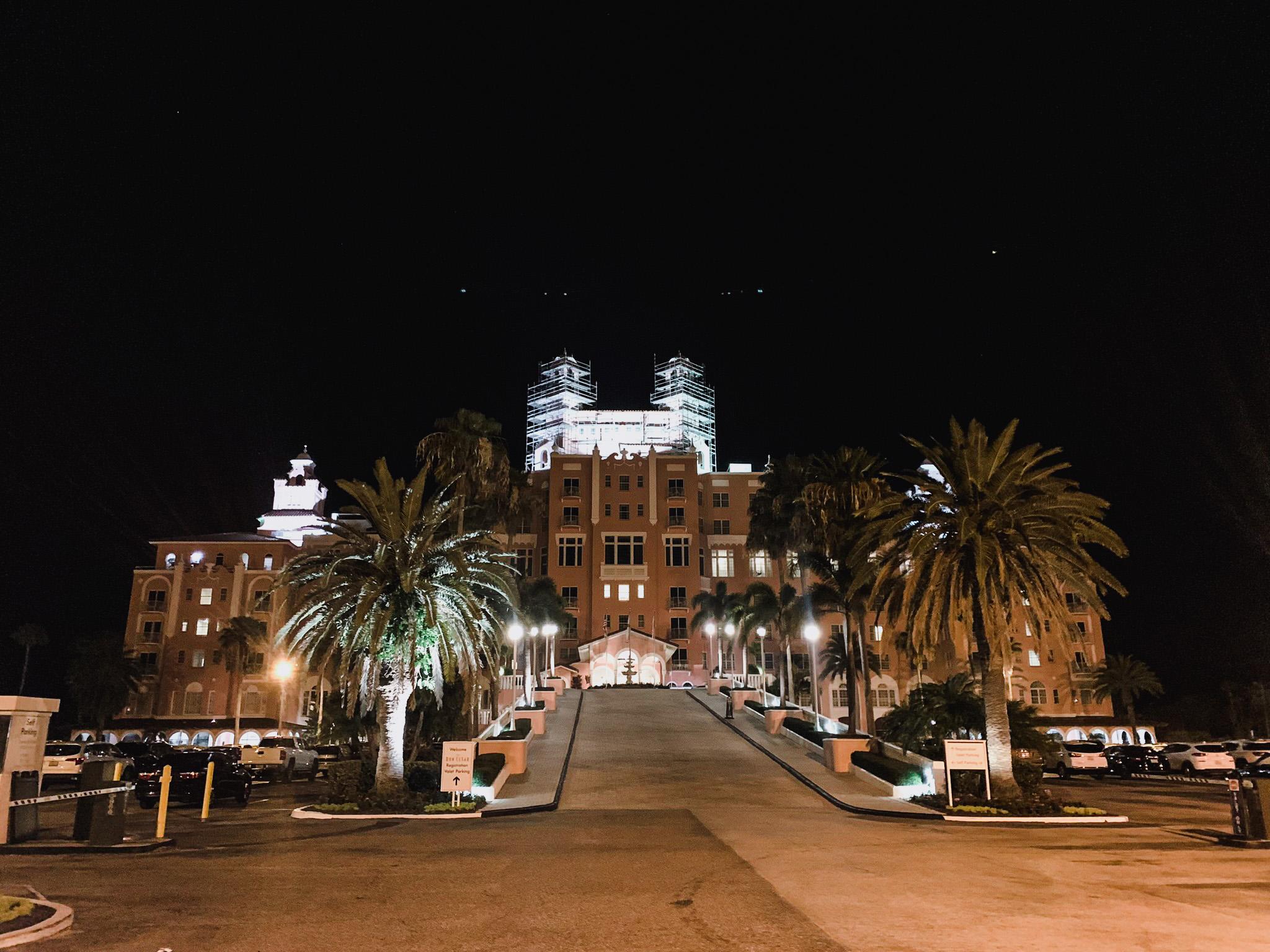 Hauntings at The Don CeSar Hotel
One of the most haunted spots of this hotel is the lobby. People have reported sightings of a ghost that looks like a man smiling, mysterious door knocks, and swinging doors. Also sightings of a man with a white hat strolling around with a woman dressed in a traditional Spanish dress. Could this be the ghost sightings of the former owner and his lifelong love?
Address: 3400 Gulf Blvd, St Pete Beach, FL 33706
5. Brooksville Train Depot
Built in 1885 and completely functional up until the early 70s, this hidden gem is located very close to the May-Stringer House. In fact, we visited both on the same day. I loved seeing this train depot because it definitely looks a lot like a hidden treasure. I also learned this day that Brooksville is part of what they call Florida's Adventure Coast. As I peeked inside, everything seemed very eerie!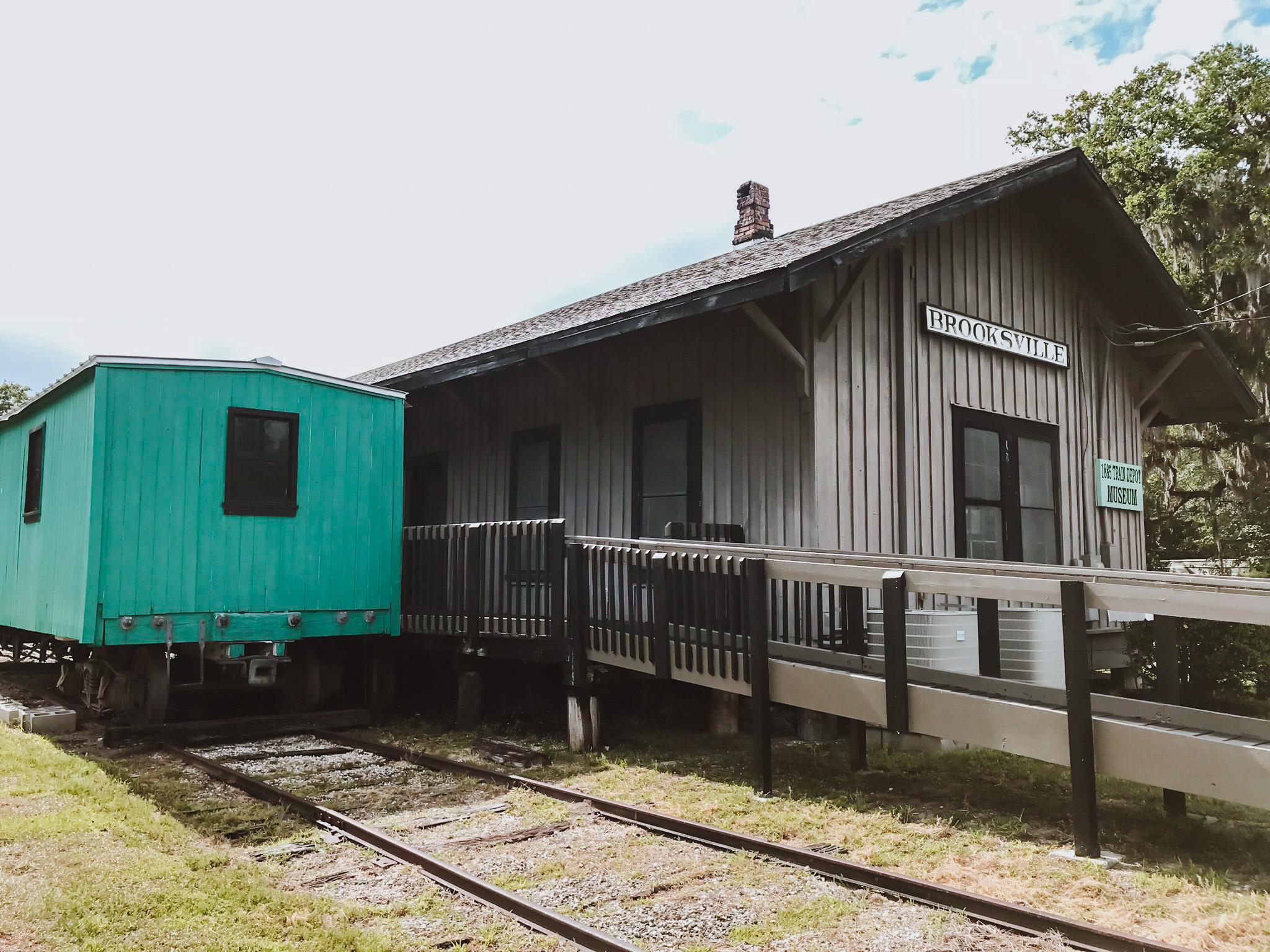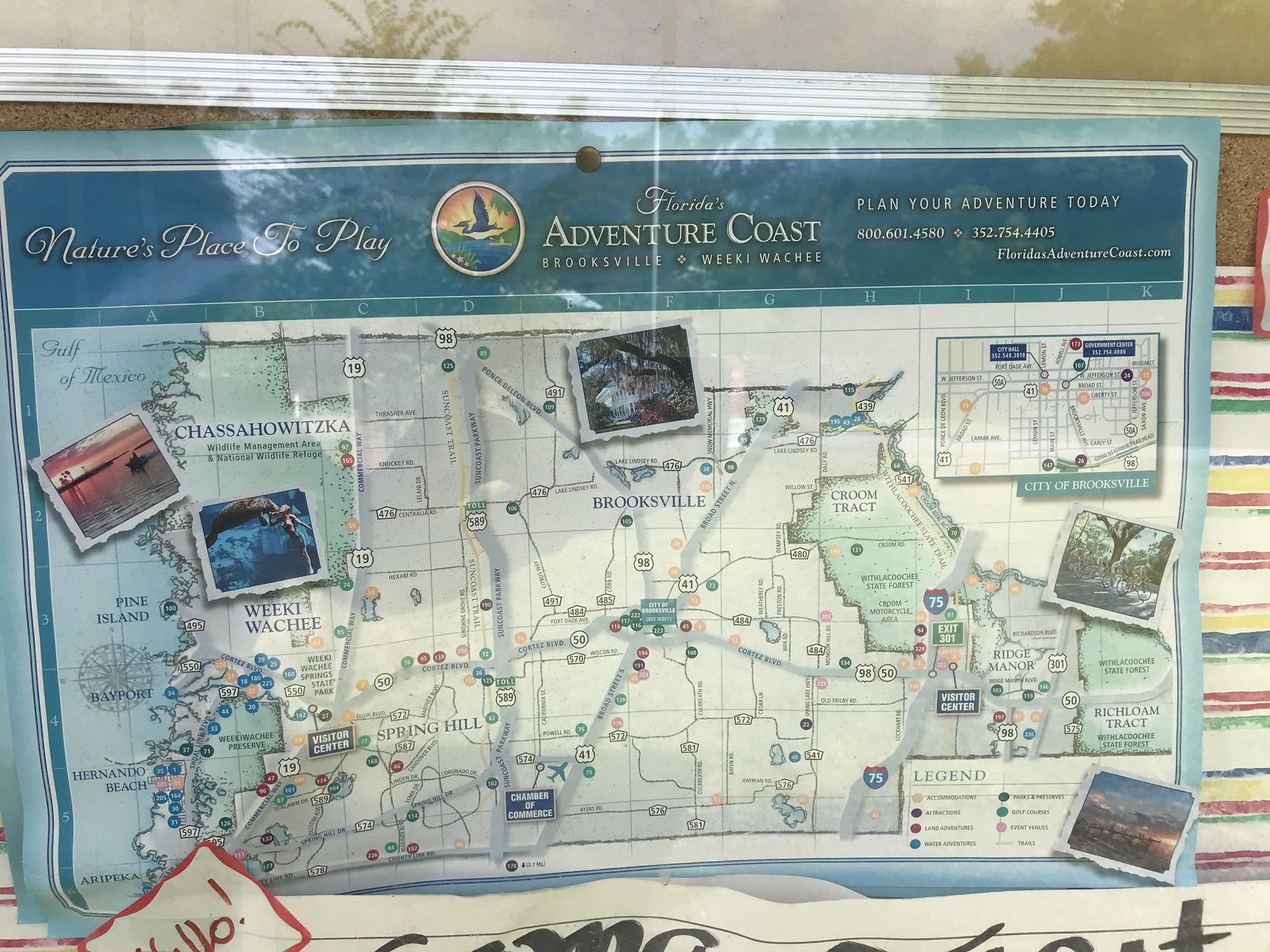 Hauntings at Brooksville Train Depot
Lots of voices coming from the restored train car, train whistle coming from the tracks, and it's known as a very active paranormal location.
Plan your visit: Open on Wednesday, Friday, and Saturday. Tickets are $5 for adults and $2.00 for children ages 6-12. Visit the Hernando Historical Museum Association for more information and updates on tours.
Address: 70 Russell St, Brooksville, FL 34601
6. The Tampa Theatre
Although there are also tours available to go inside this theatre, I haven't yet had the chance to do it. However, I've learned a lot about the history of this majestic place. It's known as one of the most haunted places in Tampa, and it was built in 1926 in the month of…wait for it…October! Bonus: the building's Mediterranean-type architecture is truly one of a kind!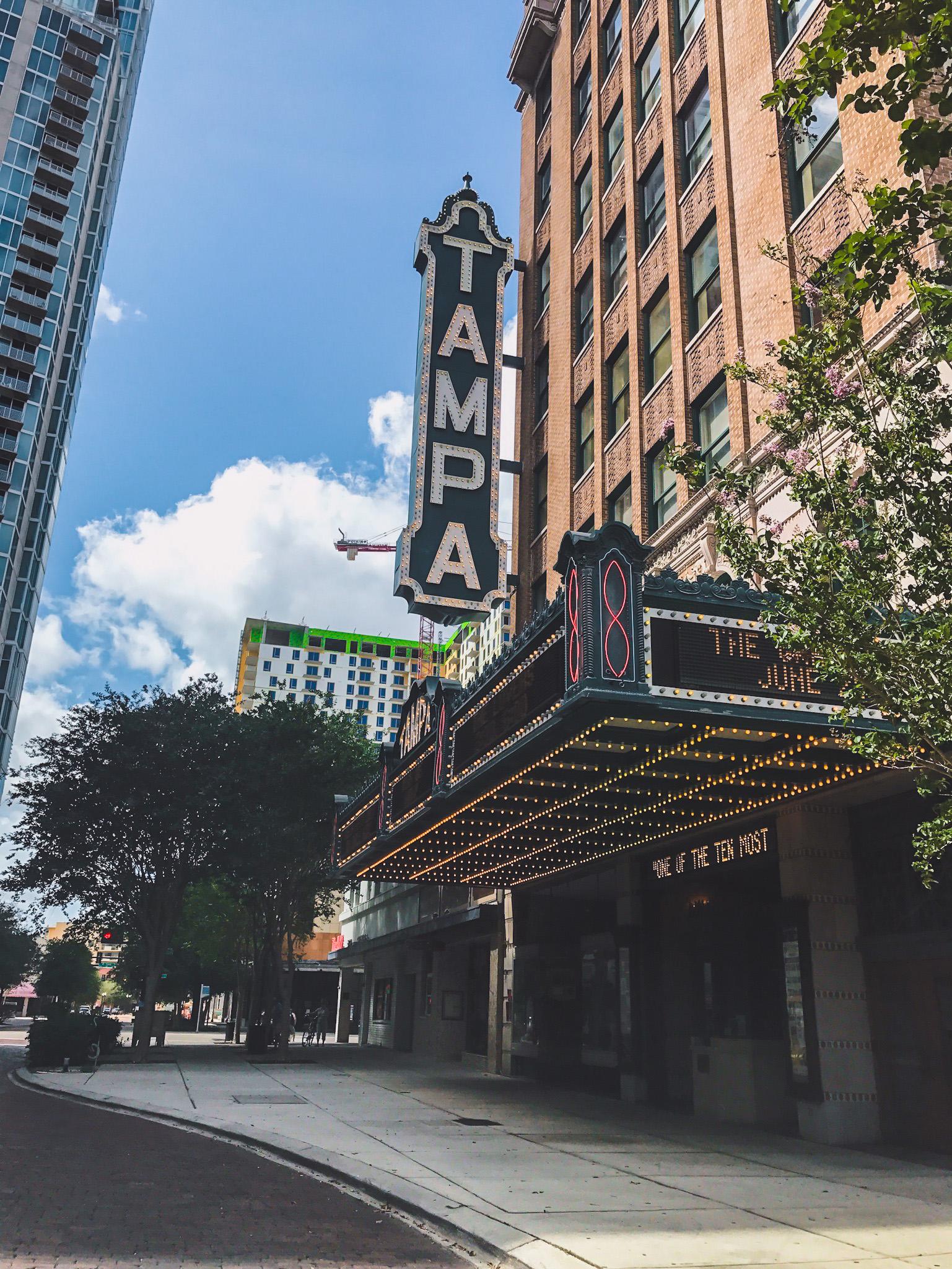 Hauntings in the Tampa Theatre
Sightings of a lady in white moving across the theatre's balcony, the sound of keys rattling, and taps on the shoulder when no one is around. Also, a man wearing a fedora has been spotted in seat 308 when the theatre is closed. Scary true story fact: a 1950s ticket taker, Robert Lanier, died inexplicably with his skull bashed inside the ticket booth he worked in. Could his spirit still be roaming around the theatre?
Click here for a virtual tour of one of the 10 Most Beautiful Cinemas in the World (BBC). Visit the Tampa Theatre website for more information.
Address: 711 N Franklin St, Tampa, FL 33602
7. Castillo de San Marcos
St Augustine is the oldest city in America. So it kind of makes sense that the center of the city is pretty much surrounded by haunted places. Castillo de San Marcos, the 17th-century fortress built in 1672, is the home to many ghost stories and hauntings. In fact, the night I took this picture, we were actually taking the St Augustine Ghost Tour!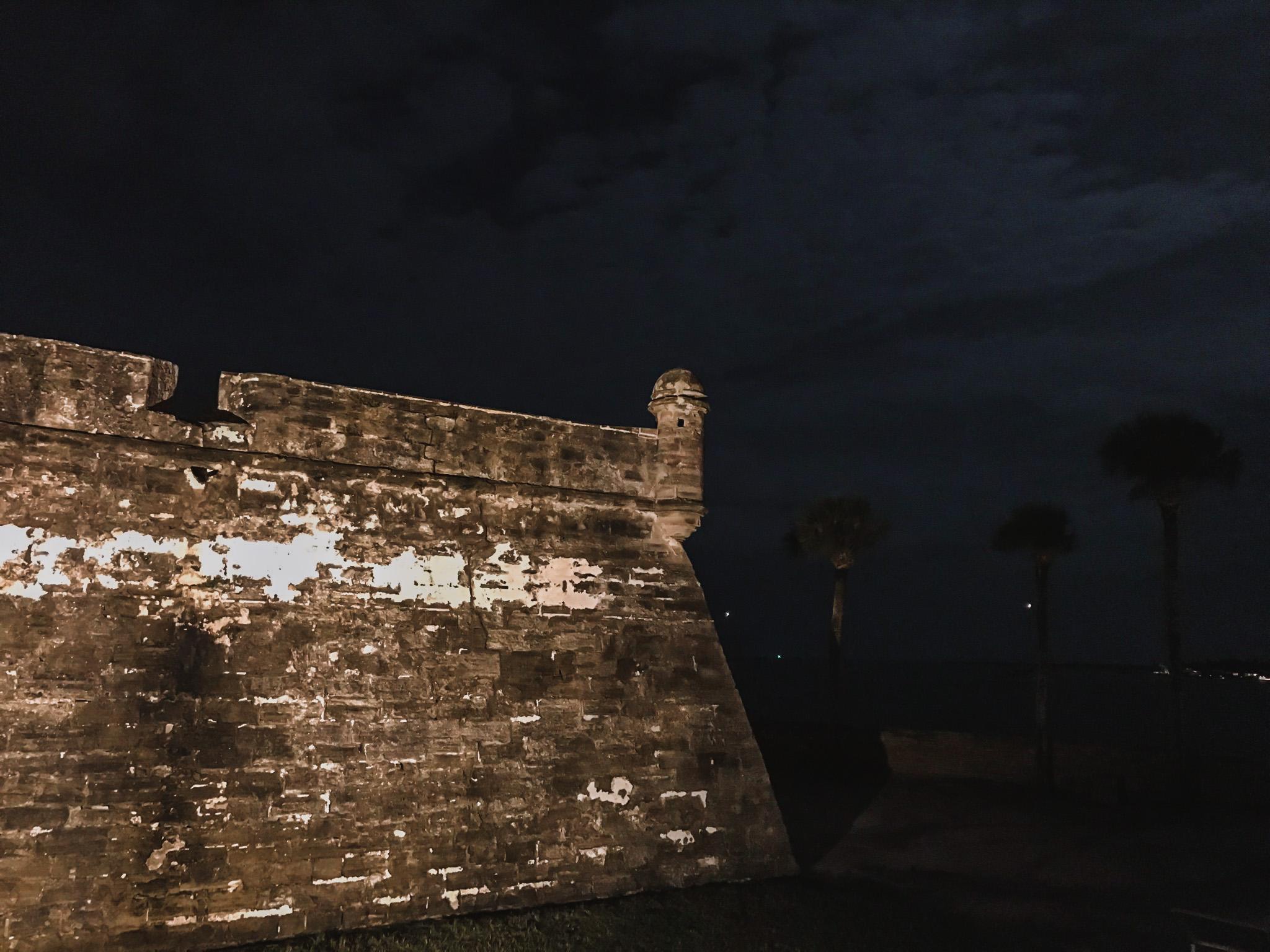 Hauntings at Castillo de San Marcos
Sightings of Spanish soldiers on the ground of the fort, Native Americans, and spirit orbs. You can also smell of the sweet perfume from Colonel Garcia's wife, Dolores, who disappeared with her supposed lover. According to the Travel Channel's 'Ghost Adventures', this love triangle is one of the best-known ghost stories of Castillo de San Marcos.
Final Thoughts on Haunted Places in Florida
If I were to write the haunted stories behind each of these places, it would've been an extremely long post! Therefore, I really just concentrated on the key points and things that have caught my attention the most. If you feel like going on the hunt for ghost stories, go check them out! I know I got my own good scare with the shadow at the attic over at the May-Stringer House! 👻
How about you? Got any good haunting experiences? Share in the comments!
---
Like it? Pin it! Share it!