It is without a doubt that The Narrows is one of the most popular hikes in Zion National Park. But, what is The Narrows? It's a strenuous river hike in the narrowest part of the Zion canyon. Hence the name The Narrows. Here, you'll be hiking along the Virgin River which runs through walls of Navajo sandstone that are 1,000 feet tall.
But before you go, here's what you should know and what to wear to hike The Narrows!
All products and services featured on Next Stop Adventures are hand-selected, and all opinions expressed are our own. However, we may earn an advertising or affiliate commission if you make a purchase through any of the links featured on this site, at no extra cost to you.
How deep is the water in The Narrows in Zion National Park?
Although the best time to visit Zion National Park is during the summer, flash floods during this time are the real thing and are extremely dangerous. Checking the weather should be a priority before heading to Zion–especially if you plan on hiking The Narrows.
That being said, depending on the flow of the water, the deepest parts of the turquoise waters in The Narrows range from knee-deep to chest-deep. For reference, I'm 6 feet tall and the water was waist-deep for me at one point.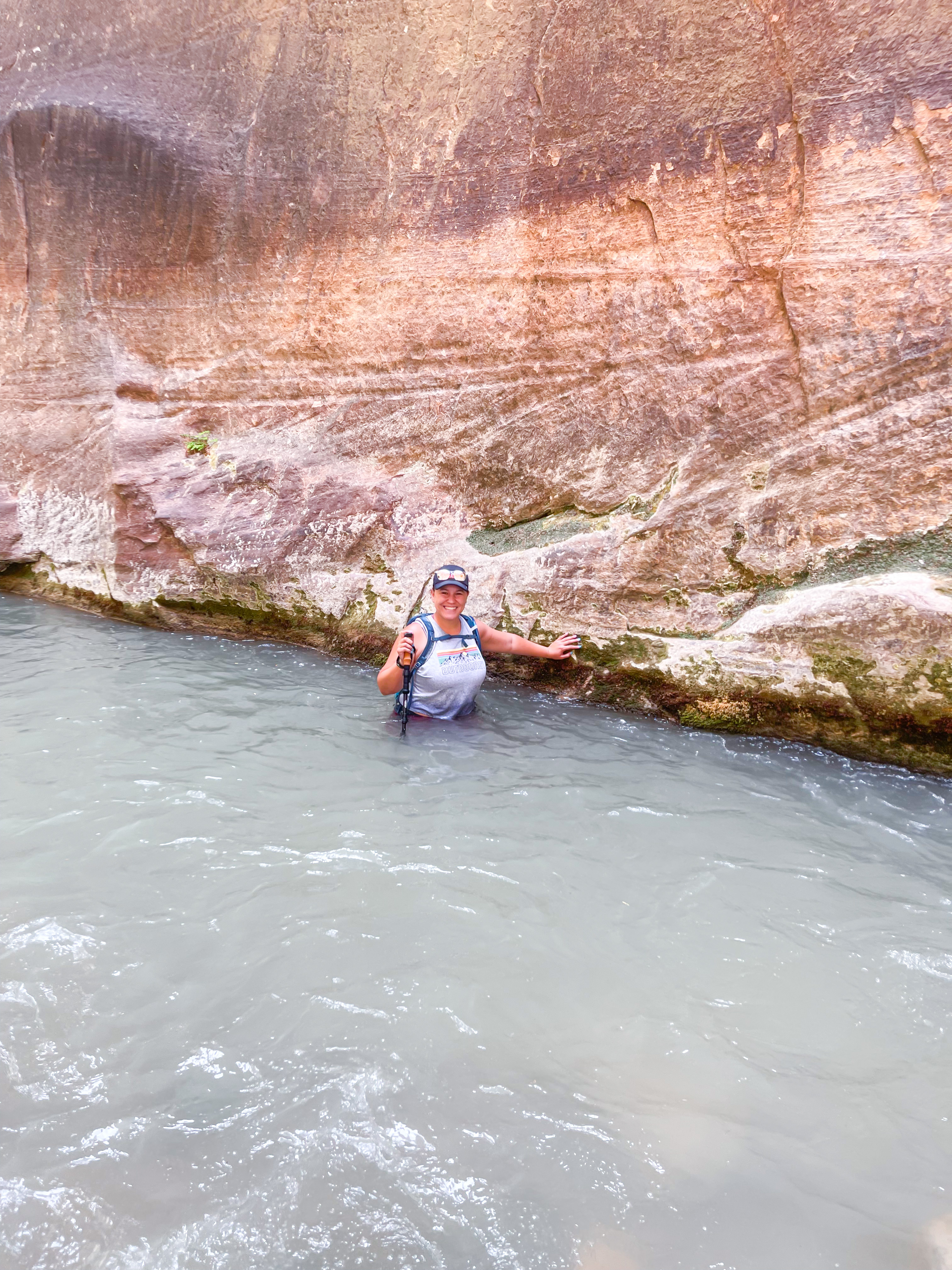 If the flow of the water goes beyond that point, the park will close the trail and no one will be able to access it until further notice. Therefore, planning accordingly will either make this hike a memorable one or the worst experience ever.
How long is the hike in The Narrows?
There are two ways to hike The Narrows in Zion National Park.
Hike from The Temple of Sinawava. You'll start by hiking 1 mile along the paved Riverside Walk trail. Once you arrive at The Narrows, you will begin the hike from the bottom up. Continue as far as you'd like. This is the way I did it and I hiked a total of 5 miles roundtrip. If you were to finish it this way, keep in mind that this is a 10-mile roundtrip hike. Take the shuttle all the way to stop 9 and arrive at the Temple of Sinawava to begin this hike.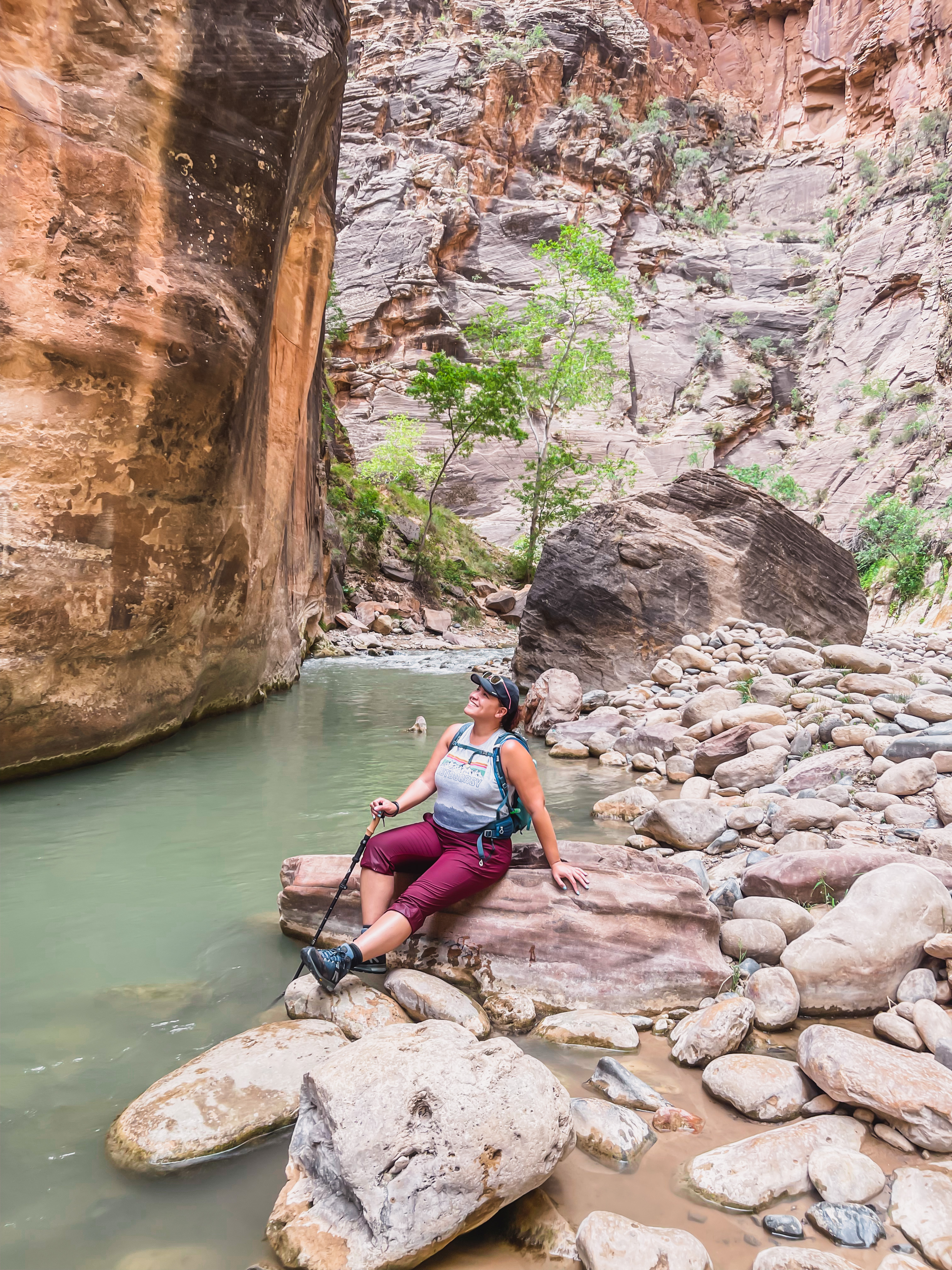 Hike from Chamberlain's Ranch. For this hike, a wilderness permit is required. You will be hiking The Narrows from top to bottom for a total of 16 miles roundtrip. If you choose this hiking option, transportation to Chamberlain's Ranch trailhead is your own responsibility.
Hiking The Narrows is an incredible experience and it can easily turn out to be one of your favorite hikes. However, without some essentials, I can pretty much guarantee that it won't be fun at all.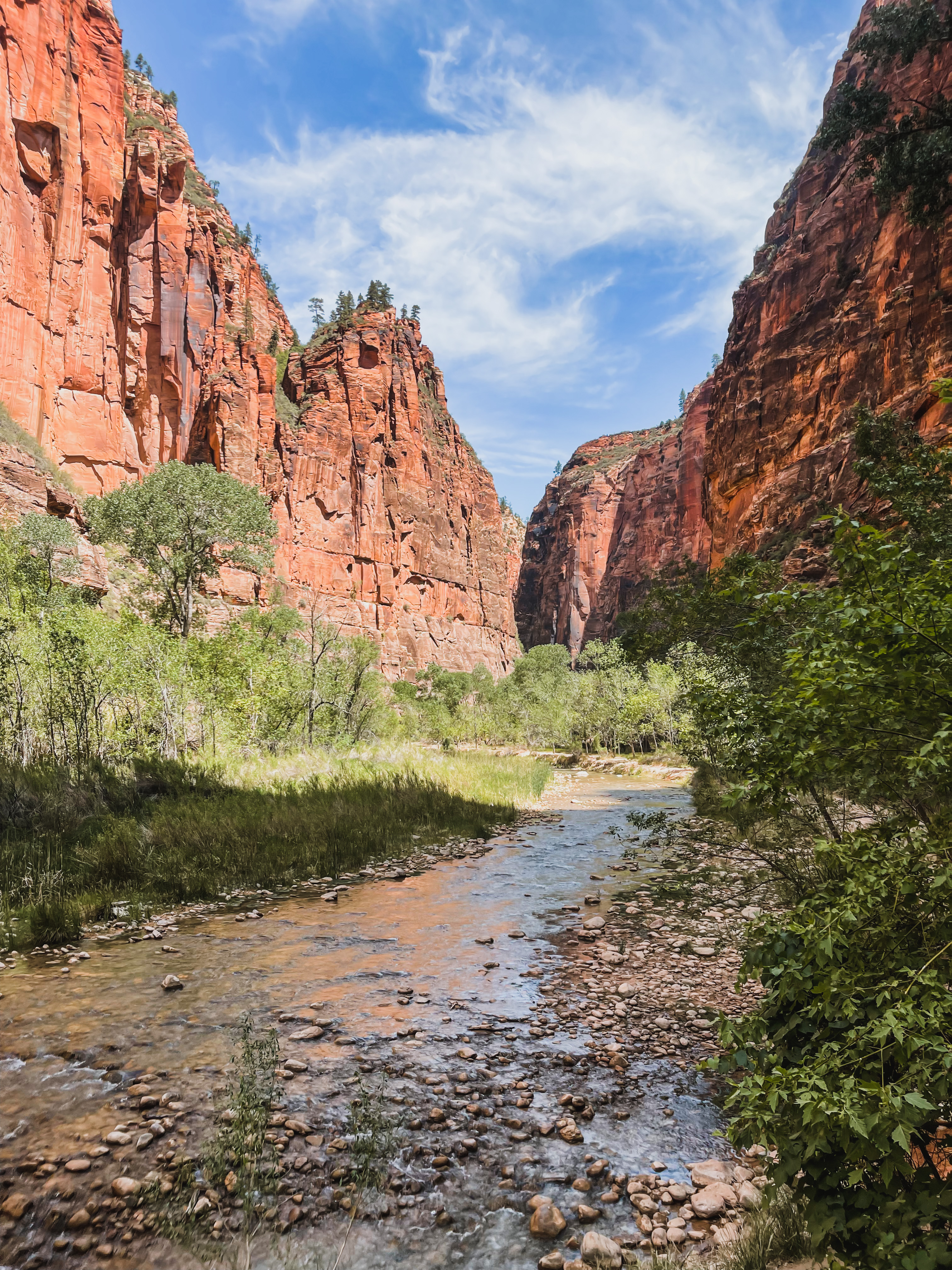 What to Wear and Essential Gear for Hiking The Narrows in Zion
So, what do you need to hike The Narrows in Zion? Hiking boots, neoprene socks, trekking poles, water-resistant outdoor pants, UPF long-sleeve shirts, and dry bags are some of the essentials. Here is a complete list.

1. Trekking Poles
Hiking The Narrows with trekking poles is a MUST! From beginning to end, the riverbed is completely covered in pebble rocks. Varying in size, these rocks can easily cause you to lose your balance.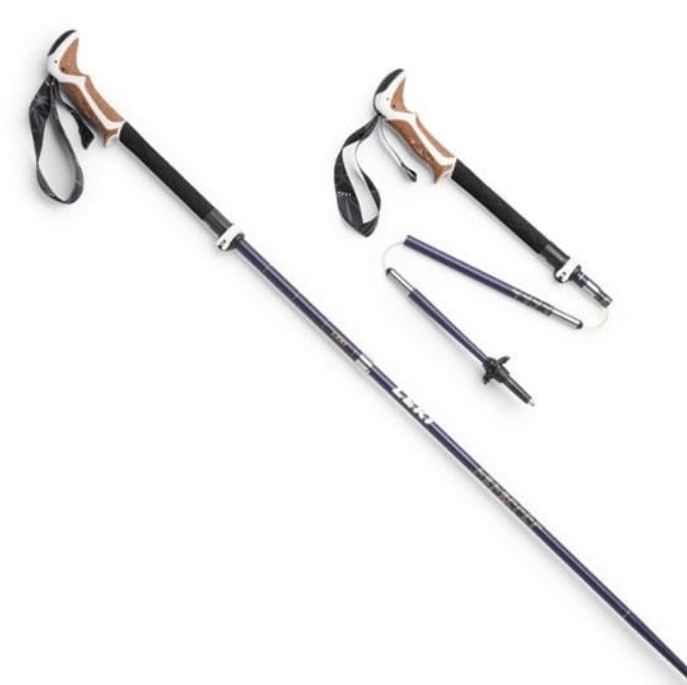 Trekking poles will give you stability and will eliminate the pressure off of your knees when hiking. I recommend the foldable trekking poles because they are easy to carry both in the backpack and in your luggage.
2. Hiking Boots
Listen, if you plan on hiking this strenuous river hike in your Vans or anything similar, you will regret it. Hiking boots are a MUST and I cannot stress it enough. Like I mention before, there are infinite pebble rocks on the riverbed in The Narrows. Covered in water, these pebble rocks feel just like bowling balls.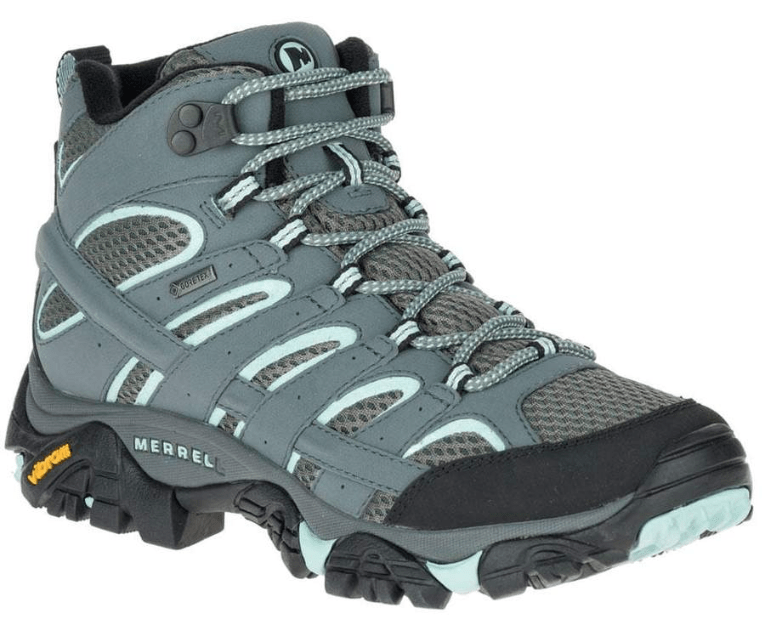 Not wearing adequate shoewear can (and will) cause you to trip and lose your balance. This puts you at risk of breaking an ankle–which is actually one of the primary injuries in Zion National Park. So, do yourself a favor, follow the safety guidelines and wear hiking boots!
3. Neoprene Socks
The water in The Narrows is very, very cold. Therefore, hypothermia is one of the hazards in these canyons because the whole hike is nothing but water. To avoid hypothermia, use neoprene socks and avoid using cotton socks.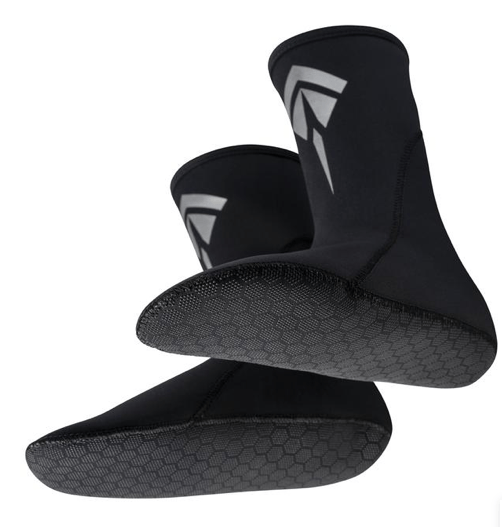 Cotton socks do not provide any type of insulation and your feet will be freezing before you know it. On the other hand, neoprene socks are designed to keep your feet warm when hiking in the water.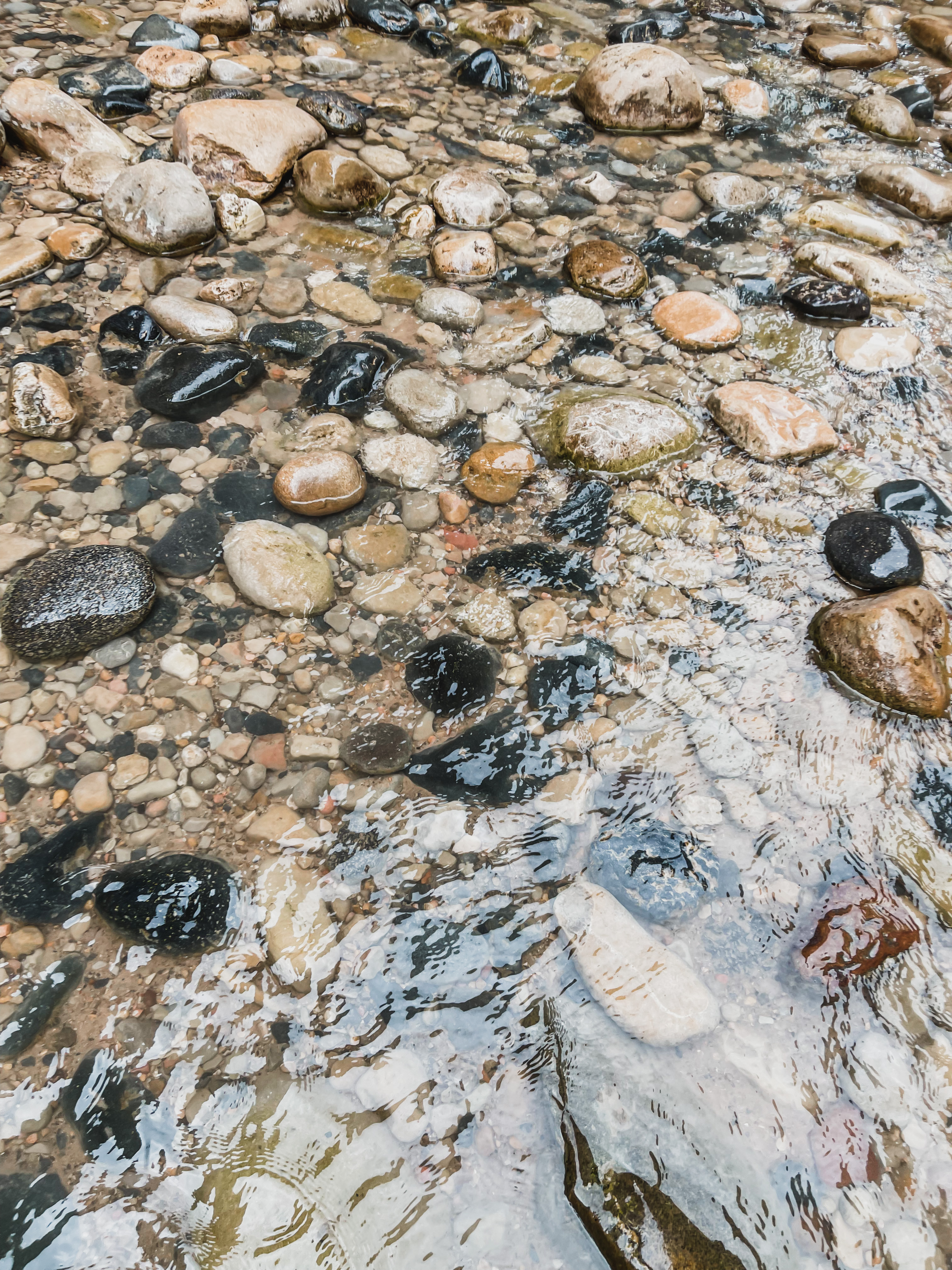 4. Quick-drying / UPF Pants
In general, UPF clothing is a must for all of your hiking trips. But for hiking The Narrows, quick-drying pants are essential. Keep in mind that you will encounter water chest-deep–which was my experience. And with the water being as cold as it is, you need to be able to dry quickly.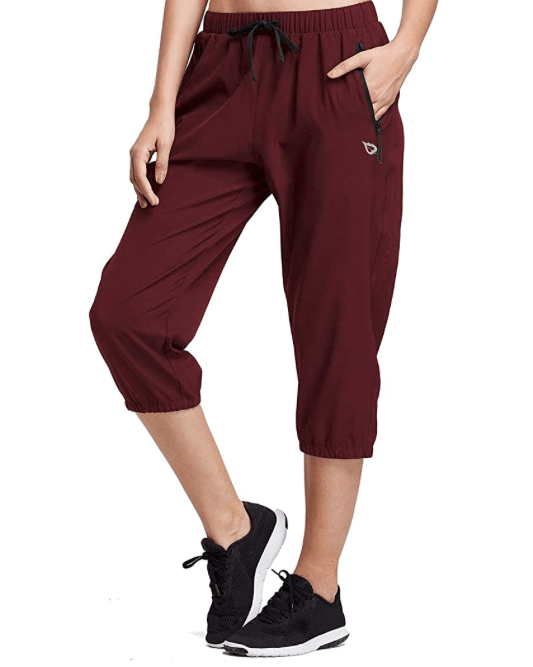 For water hikes, I like using Capri-length quick-drying pants. I personally love these hiking pants from BALEAF because they are super comfy and I can move easily with them when they're wet. Choose the ones that feel the most comfortable to you.

5. Dry Bag, a must-have for hiking The Narrows in Zion!
I'll put it this way…I will never do a water hike without carrying a dry bag for my camera gear. Plain and simple! I make my living being a lifestyle photographer and I never, ever risk my equipment in any way. Using a dry bag to put all my belongings and my camera gear eliminates the risk of water damage.
I insert the dry bag into my hiking backpack and voila! No water, no harm! A dry bag is simply the best thing to carry for hiking in the water. They come in different sizes so you can choose the one that works best for you.
More Things you Need to Hike The Narrows in Zion
6. Waterproof Phone Pouch
Same as with my camera gear, I'll do anything to protect my phone. This is why I consider a waterproof phone pouch to be a must when hiking The Narrows.
A phone pouch is very useful in this river hike, and it also protects your phone from all the water that's splashing around you.
Check out this packing List for hiking The Narrows in Zion National Park! 🎒#zion #thenarrows #hiking
Click To Tweet
7. Hiking Backpack
While doing this hike, I saw many people carrying their belongings in a tote bag. A tote bag is never a good way to carry your things on a hike. Even more so when hiking in the water. A hiking backpack balances out the weight you are carrying which helps get rid of pressure around your back and shoulders.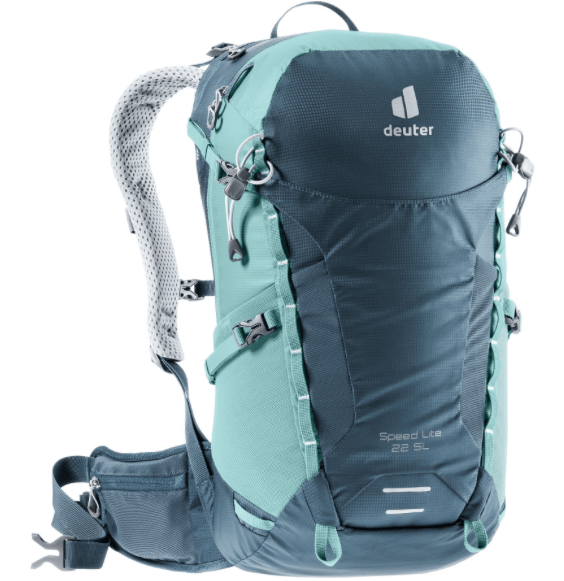 When hiking in the water, this is super important because you need to maintain a good balance. When choosing a hiking backpack, ensure that the fit is perfect for you. You can start off with a backpack for day hikes. Then, progressively add other packs depending on your hiking needs.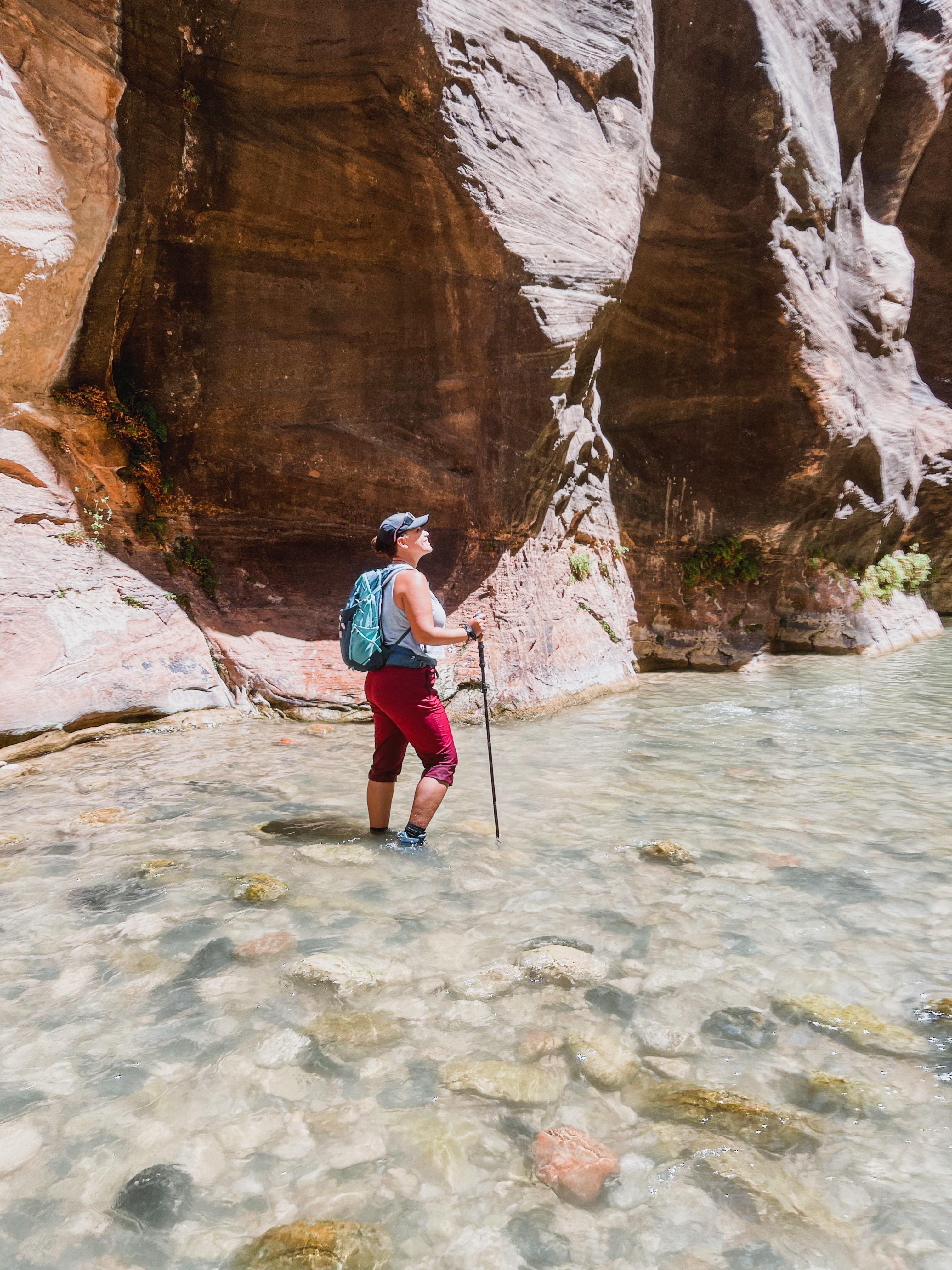 8. Water Reservoir (2 Liter), a must-have for hiking The Narrows in Zion!
One of the most important things when hiking The Narrows in Zion is being able to have your hands free in order to handle your trekking poles. This is why inserting a water reservoir in your hiking backpack will make all the difference in the world. With this, you don't have to worry about the crazy weight of water bottles.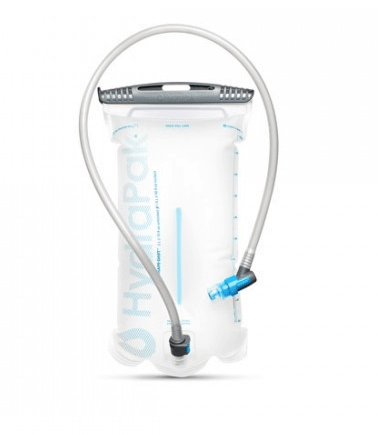 Additionally, you will have access to your water at all times without having to take the backpack off your back. Keep in mind though, that if you're doing more than 5 miles, you will need more than 2 liters of water. Rule of thumb: always duplicate the amount of water you need for a hike.
9. First Aid Kit
This is pretty self-explanatory. On all hikes, water or no water, carry a first aid kit at all times. In my first aid kit, I also have blister cushions which really came in handy during this trip.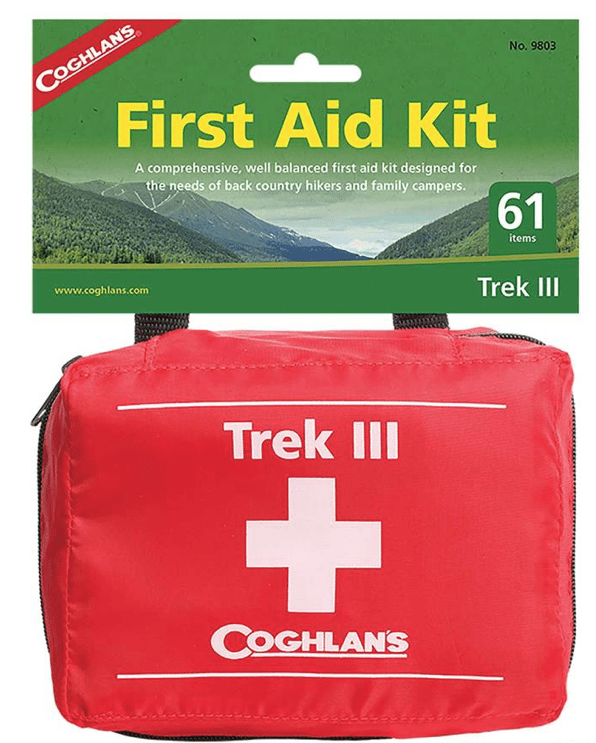 Feel free to add items to your kit that are specific to your needs. Carry one first aid kit per person.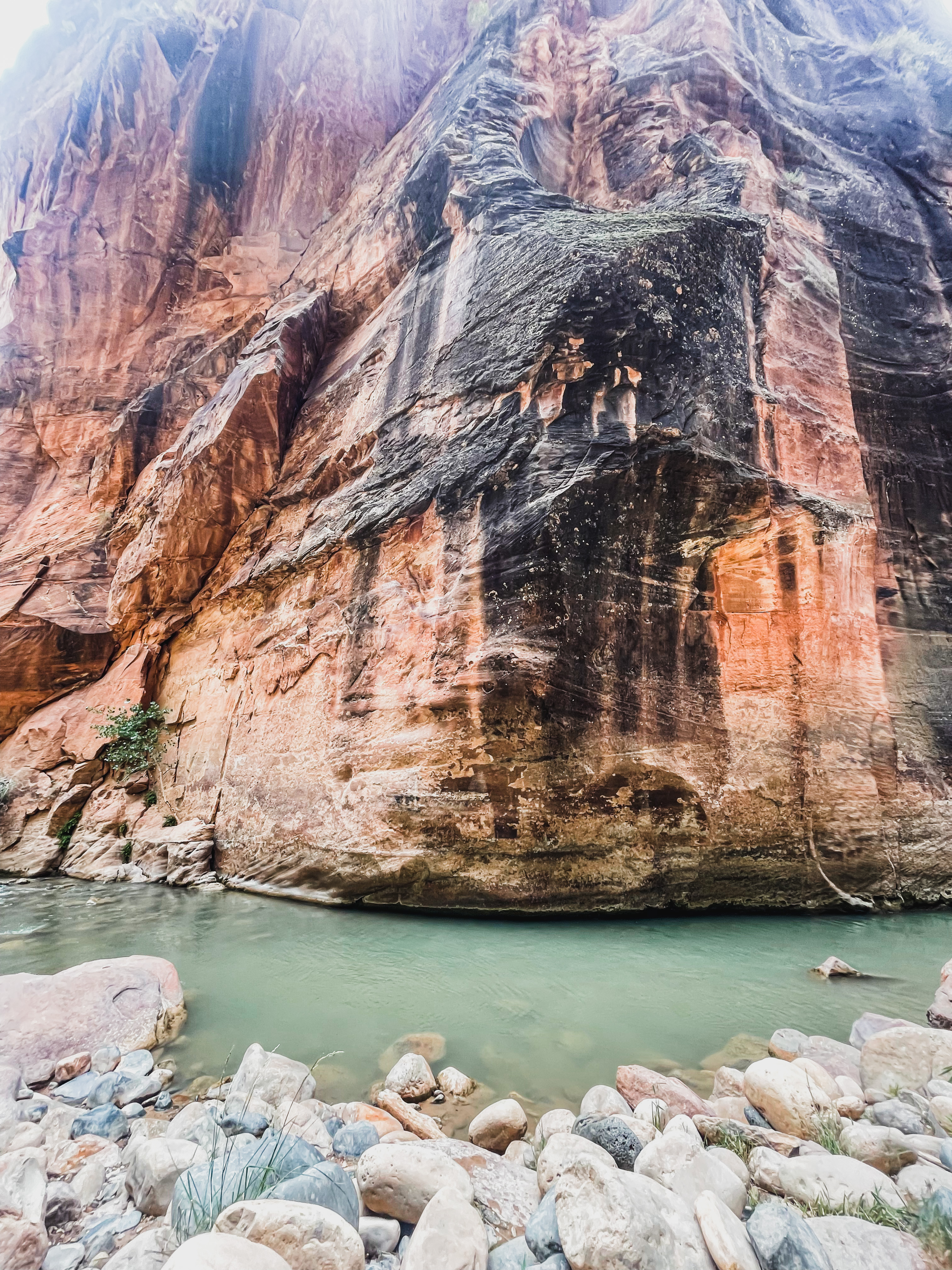 10. Waterproof Whistle
May I remind you, this is a strenuous river hike over 10 miles long. In case of an emergency, running through the river to get help is not the most intelligent thing to do. But, carrying a waterproof whistle is. This waterproof whistle can be used underwater or on the surface.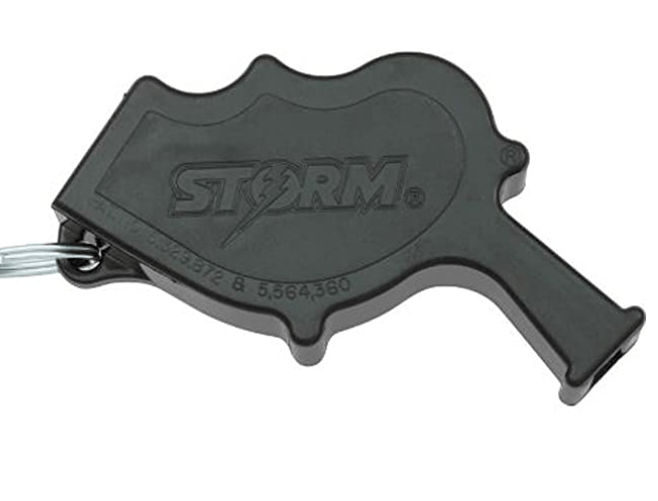 It sounds really, really loud, so rest assured that help will come to you if you need it. I like to attach my whistle to a string and I then tie it to the front strap of my hiking backpack for easy access.
Would you hike The Narrows in Zion National Park? Let me know in the comments!
---
Like it? Pin it! Share it!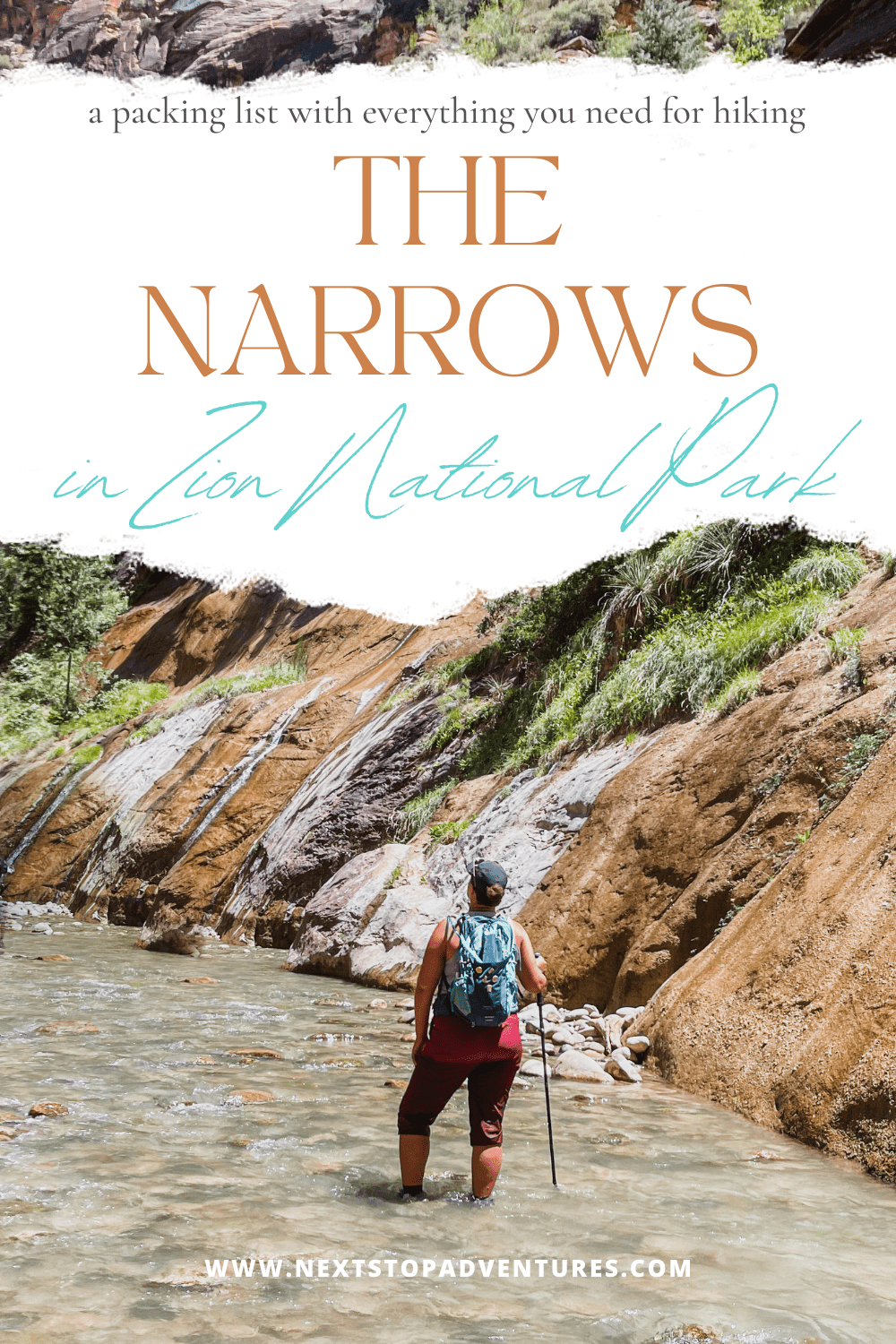 All products and services featured on Next Stop Adventures are hand-selected, and all opinions expressed are our own. However, we may earn an advertising or affiliate commission if you make a purchase through any of the links featured on this site, at no extra cost to you.