Did you know that the Little Grand Canyon is just a 5hr and 30min drive from Orlando? These beautiful canyons in Georgia are a product of poor farming practices dating back to the 1800s. Today, they make for breath-taking images. Providence Canyon State Park, aka Georgia's Little Grand Canyon, should definitely be on your road trip bucket list!
The park has over 10 miles of hiking trails, including an extremely difficult backcountry trail. There's also the main trail leading to the 9 canyons, a museum, a visitor's center, and plenty of natural beauty.
We took this trip during the last week of March, right before everything was shut down due to COVID-19 state-wide orders. Although we were here for almost a whole day, we did not get to explore all the 9 canyons. However, we did see canyons 1-5. It was super cloudy this day. In fact, it had been raining since early morning just as we were driving down from Covington.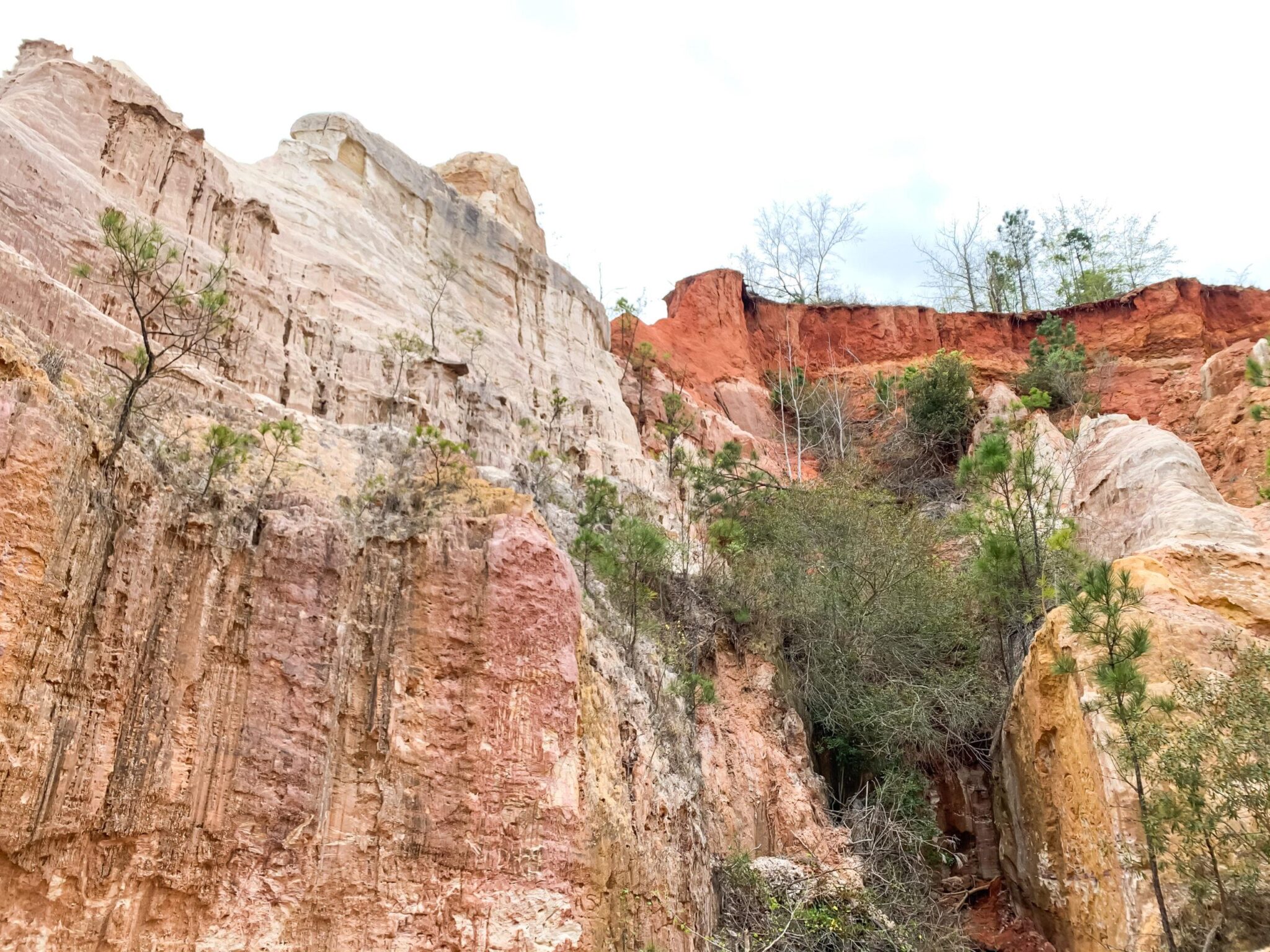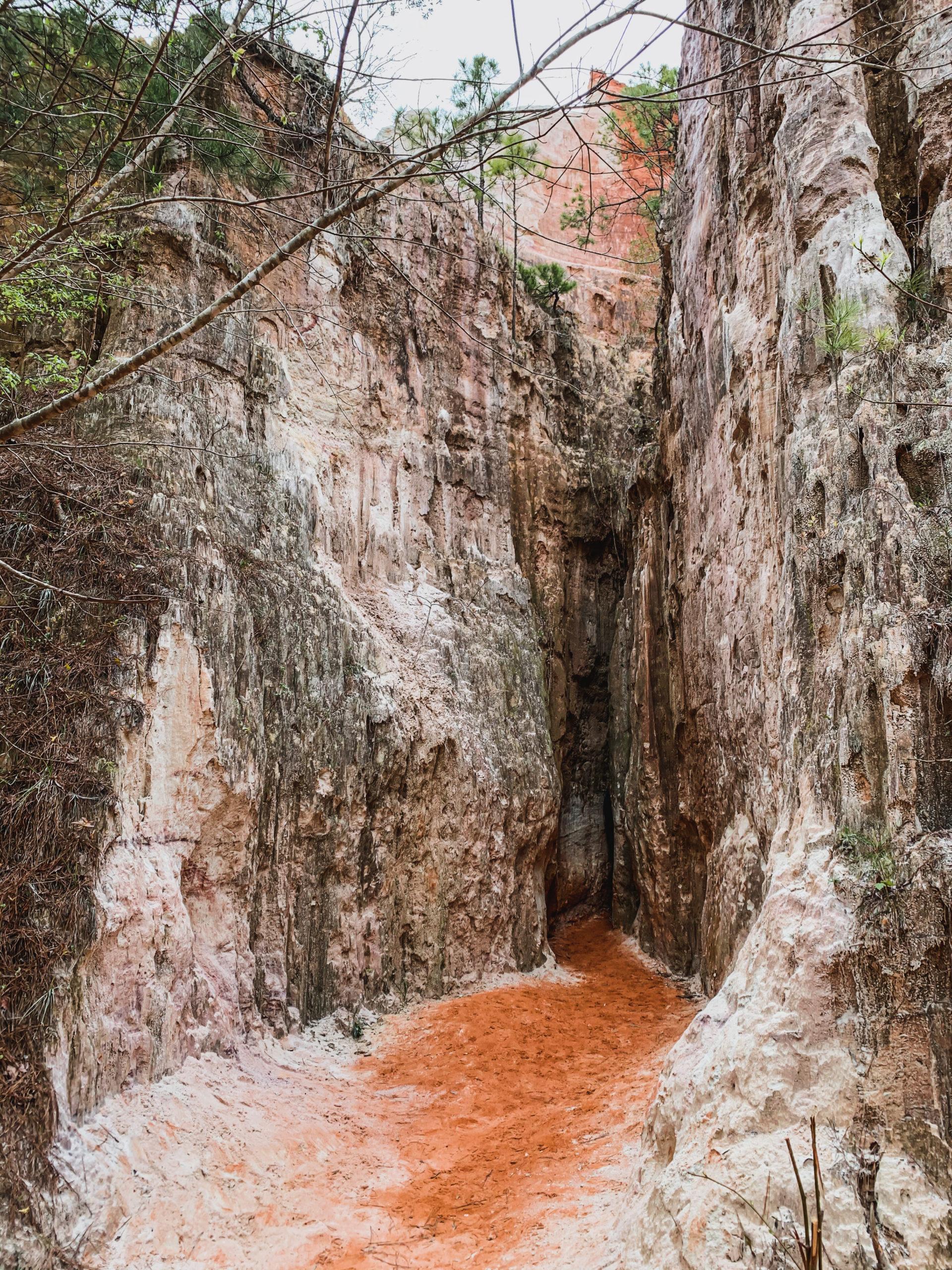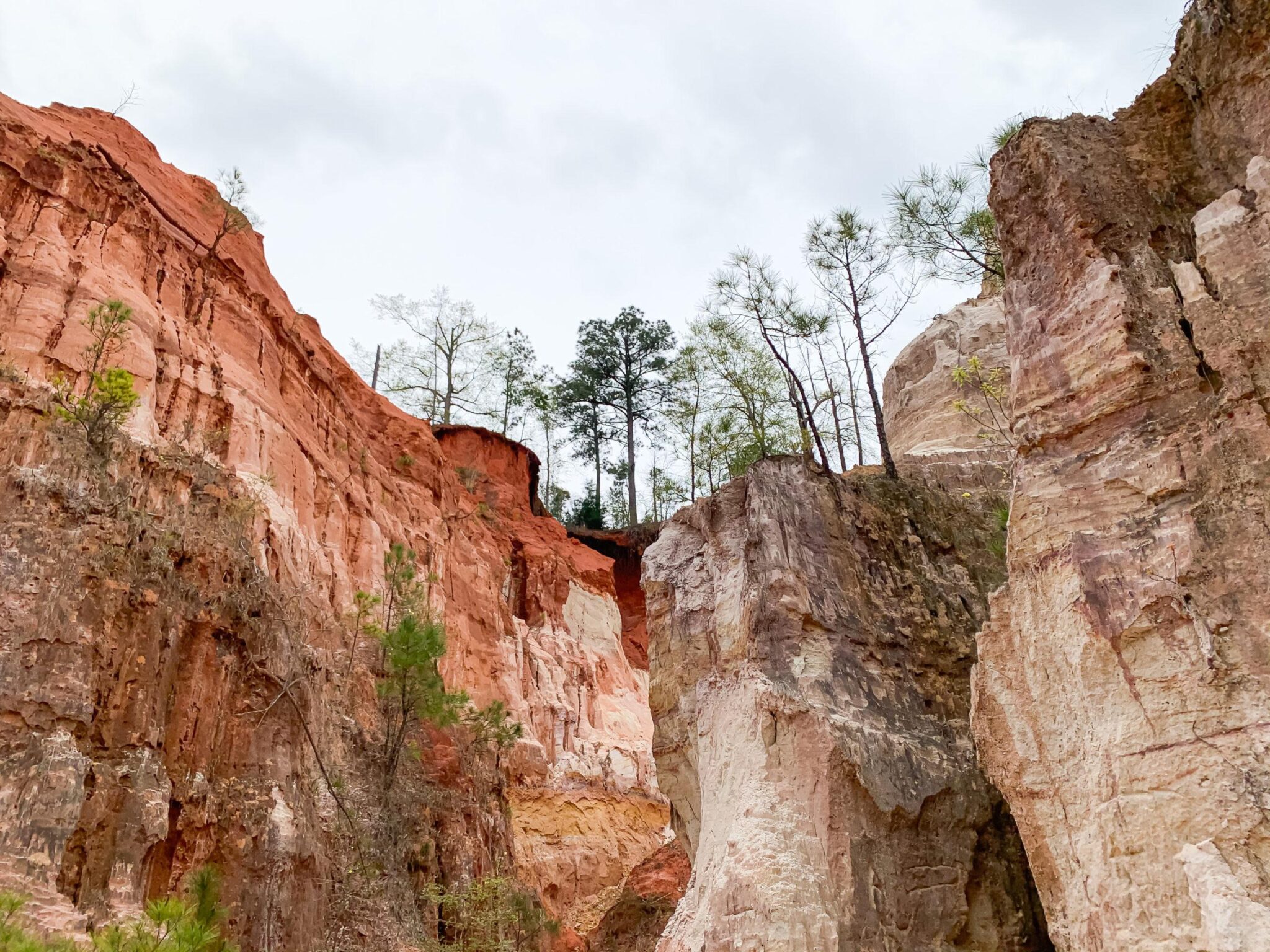 Hiking on Providence Canyon State Park, the Little Grand Canyon
Hiking trails begin right next to the visitor's center. The trail to the canyons is 1/4 mile hike going downhill – so hiking shoes or really good sneakers are recommended. Don't be like me. I'd left my hiking shoes in Florida and I had to hike in Vans. Not good! Going down felt slippery at times but I guess it was because of the rain.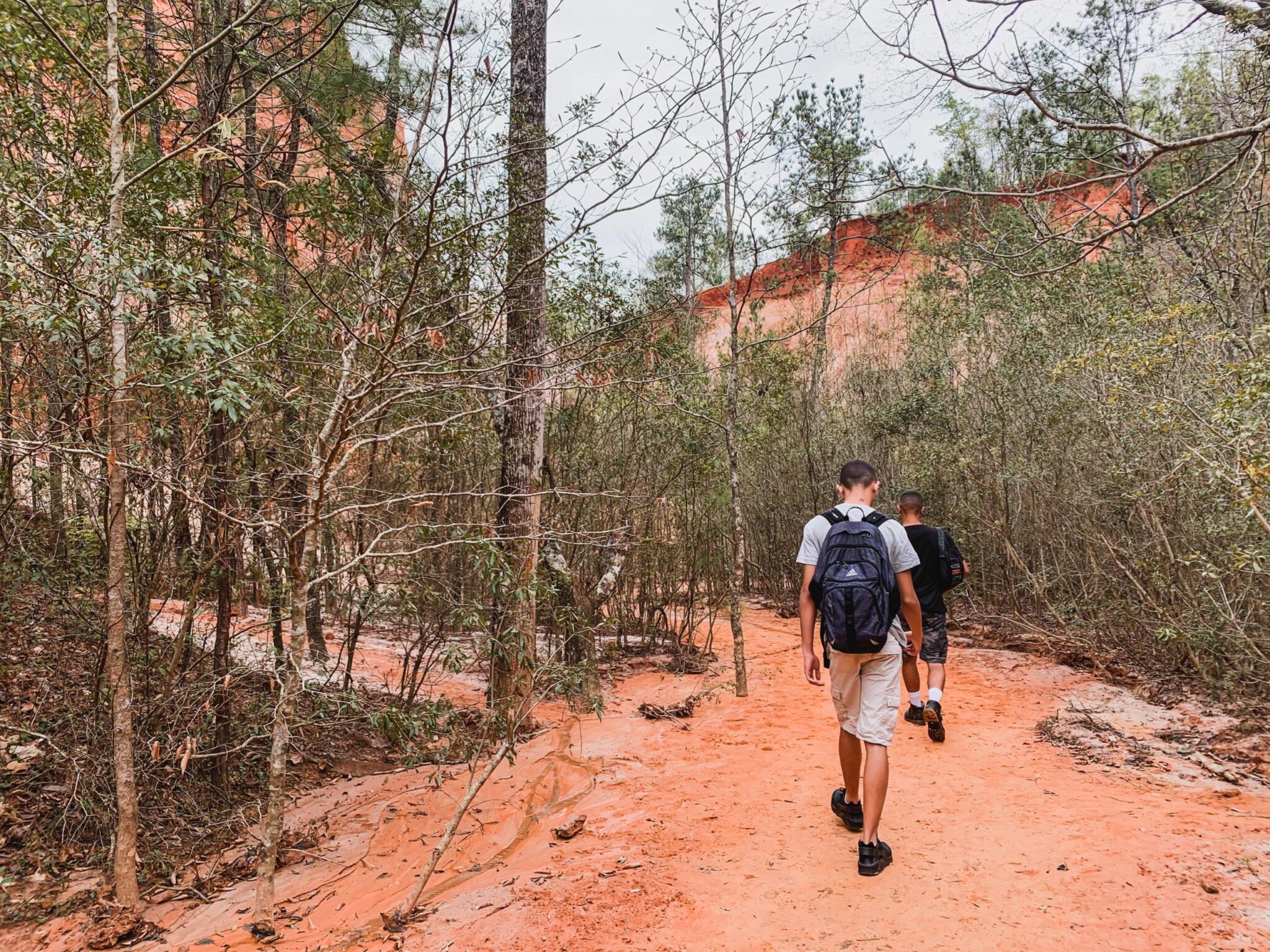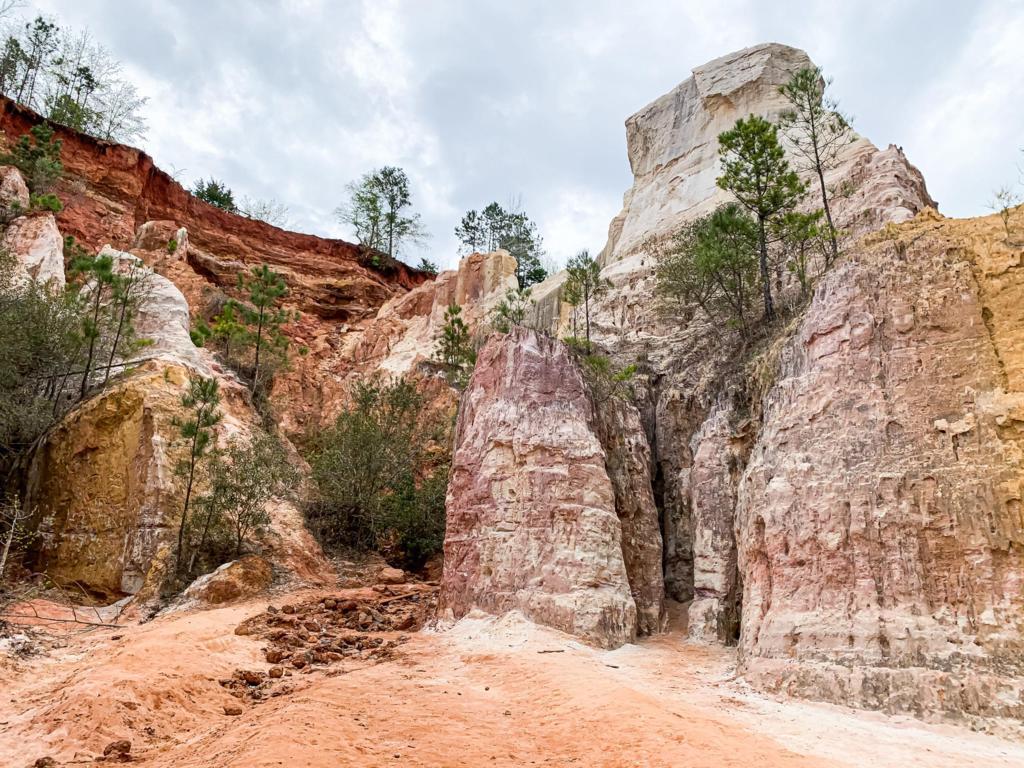 Once you get down to the creek bed, you'll see signs guiding you to the different canyons. You can see how many you want or all of them. There is also a loop trail that takes about 3 hours, including some time to explore, which takes you around the canyons. This loop trail is blazed white. If you want to see canyons 6-9, you will need to stay on this trail.
Be sure to check the weather prior to hiking Providence Canyon. If it had been raining days before your visit, the soil of the creek bed can get very slippery. My son referred to it as quicksand – and that's exactly how it feels. For this reason, it's best if you take your time while hiking and be aware of where you're stepping.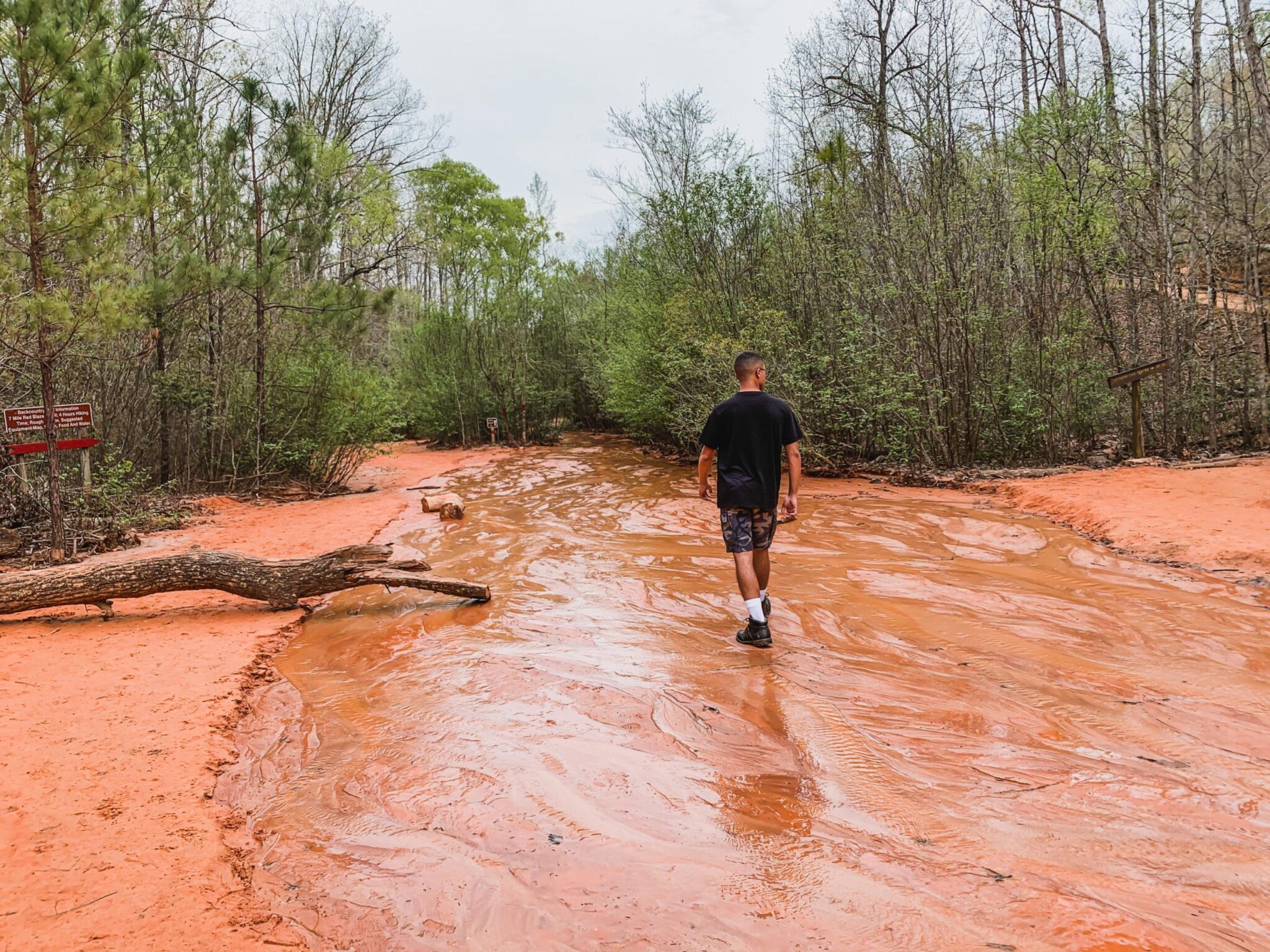 We really wanted to explore the rest of the canyons but the thought of being right in the middle of the canyons when it began to rain again, really had us feeling a bit anxious. Overall, this was an incredible experience! Who knows? It might just be one of those trips I'll be taking again this summer.
Tip: check the weather before heading out!
---
Plan your Visit
Hours: September 15–April 14: 7 am – 6 pm | April 15–September 14: 7 am – 9 pm | Visitor's Center: open daily until 5 pm
Fees: $5 for parking
Location: 8930 Canyon Rd, Lumpkin, GA 31815
COVID-19 NOTICE: In the midst of what's going on around the world, we encourage you to practice social distancing and to adhere to all safety protocols. We do not expect you to visit these places right now, and we are not, in any way, encouraging you to do so. We do, however, choose to continue sharing the beautiful places that we have been able to visit thus far, as proud supporters of local travel. Take notes and have these destinations on hand for your future travels!
---
Like it? Share it! Pin it!