Blisters, redness, and foot pain oh my! I bet you would've never thought that the socks you wear for hiking have a lot to do with this! But, it's the truth. Apart from wearing adequate hiking boots or hiking sandals, your feet will also thank you when you start wearing the right hiking socks.
Of course, I've learned this the hard way. Like that one time that I did the Orange Trail hike in Wekiva Springs State Park. I ended up with blisters on the back of my feet and under my toes. My feet were in really bad shape because I was wearing regular cotton socks. Biggest mistake ever!
The Best Socks for the Best Mom! 20% Off with code: MOTHER! Ends Midnight EST 5/9! foxsocks.com
And although I was wearing my Merrell hiking boots, it wasn't enough to prevent blisters and soreness. It was after this bad experience that I went on to do a little experiment.
I purchased different brands of wool socks–for hiking, and tried them on various trails. Each of the hiking trails varied in length, terrain, and difficulty. Needless to say, after wearing the right socks, hiking felt like a breeze again! Not experiencing blisters or pain during and after my hikes, made me realize the importance of wearing socks that are precisely meant for hiking.
Don't have time to read? Save this pin to read later!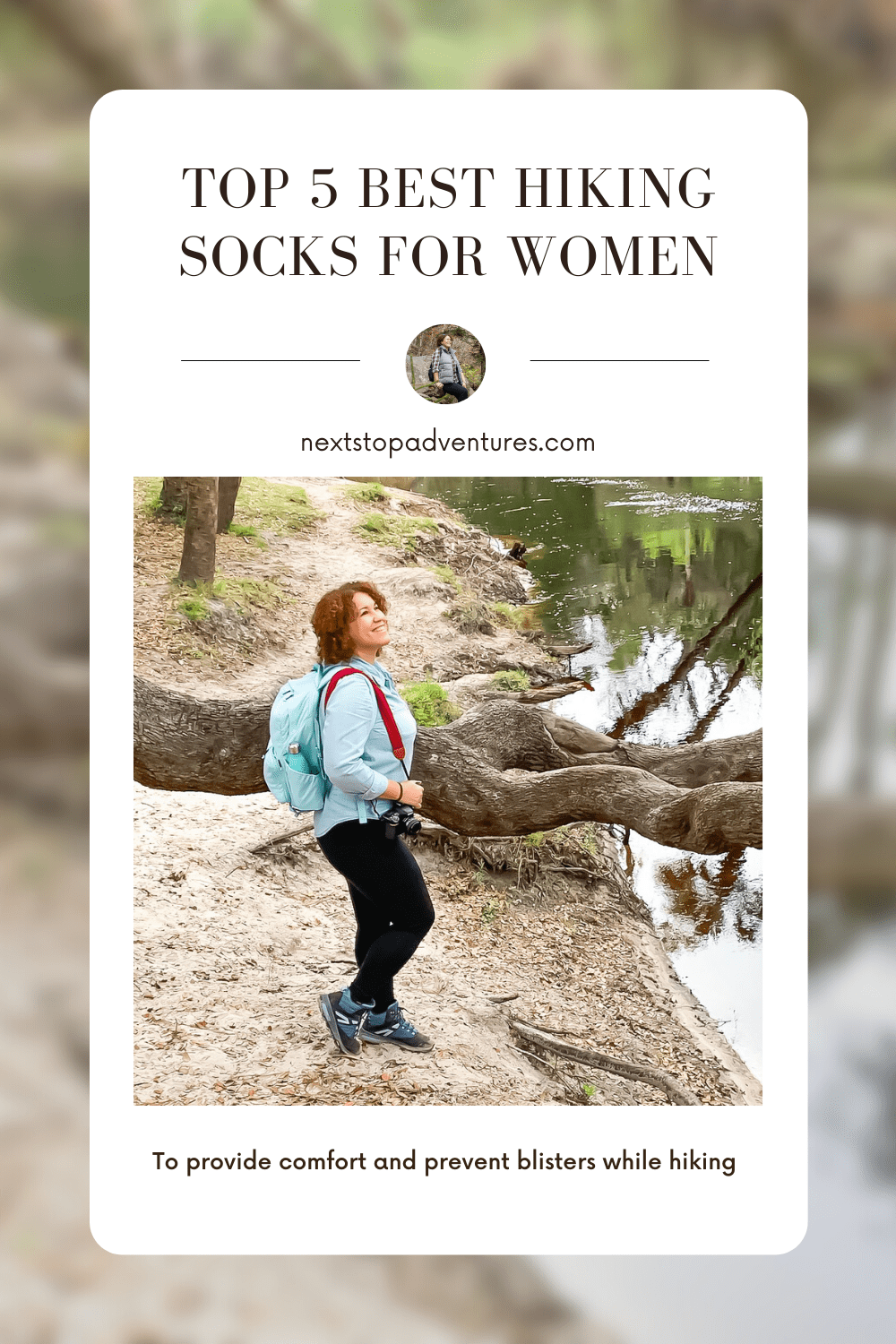 Why Do Socks Matter When Hiking?
First of all, it's about the material. Hiking socks are made from merino wool or other materials that do not retain water. These help keep your feet dry and warm in the wintertime, and cool in the warm and hot days. Merino wool also has antimicrobial properties, making this material a real game-changer for hikers.
On the other hand, cotton is your worse enemy for hiking! Socks made from cotton hold up a lot of moisture and rub against your skin in the most terrible of ways. Additionally, cotton socks contribute to bacteria build-up in your feet, making them a very bad selection for hikers.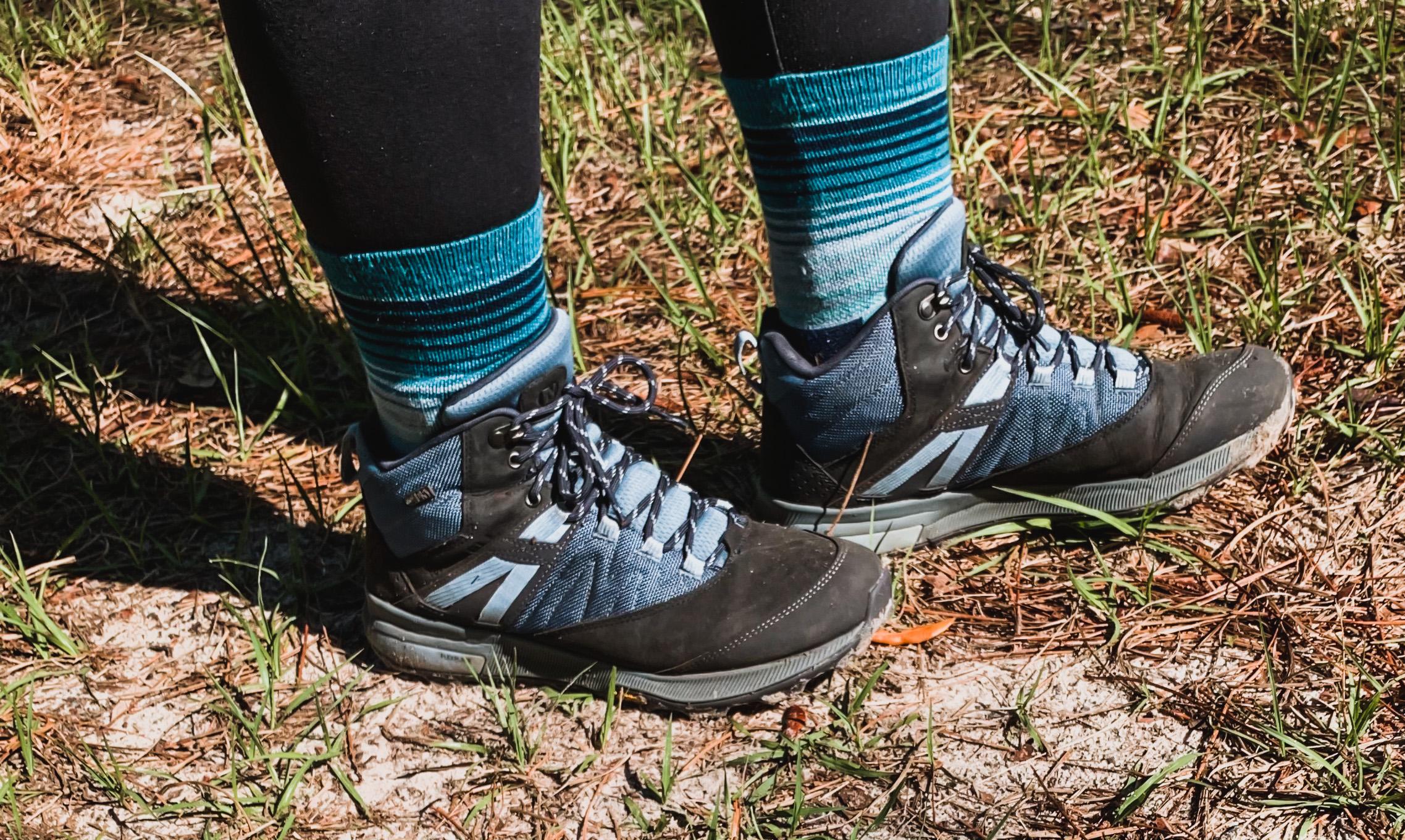 Secondly, hiking socks have padding in the high-impact areas of the foot. This allows for little to no friction of the sock on your feet. Furthermore, the padding alleviates soreness in your feet and prevents blisters.
Top Women's Hiking Socks
These are listed from most favorite to least favorite, based on my own personal experiences. For reference, I hiked a minimum of 4 miles with these socks and wore the Merrell Zion hiking boots. Also, I'm a size 11 and wear a size large on all of the socks listed.
Fabric: Wool 56% | Nylon 38% | Elastic 6%
Features:
37.5 technology to keep moisture away
Regulates body temperature
Extra cushioning on the instep
Extra cushioning around the leg helps protect against pressure points
Breathable
Guaranteed for life
Why I loved them: To be honest, Point6 and Fox River socks are my most favorite of all and I would've placed them tied at the number one spot. But the reason why Point6 is number one on my list is that they provide extra compression and extra padding on the instep. This makes a real difference on my feet! Additionally, I also love that that they are mostly wool and they feel amazing!
I did a 9-mile hike wearing these and my feet were in perfect condition and felt great at all times while hiking.
Price: $24.95
Fabric: 35% Coolmax® polyester, 27% nylon, 26% merino wool, 5% polyester, 2% spandex
Features:
Spandex compression arch
VentZone technology to keep moisture away
Flex-Zone technology for a better fit and more comfort
Flat, smooth knit padding on toe seam
Breathable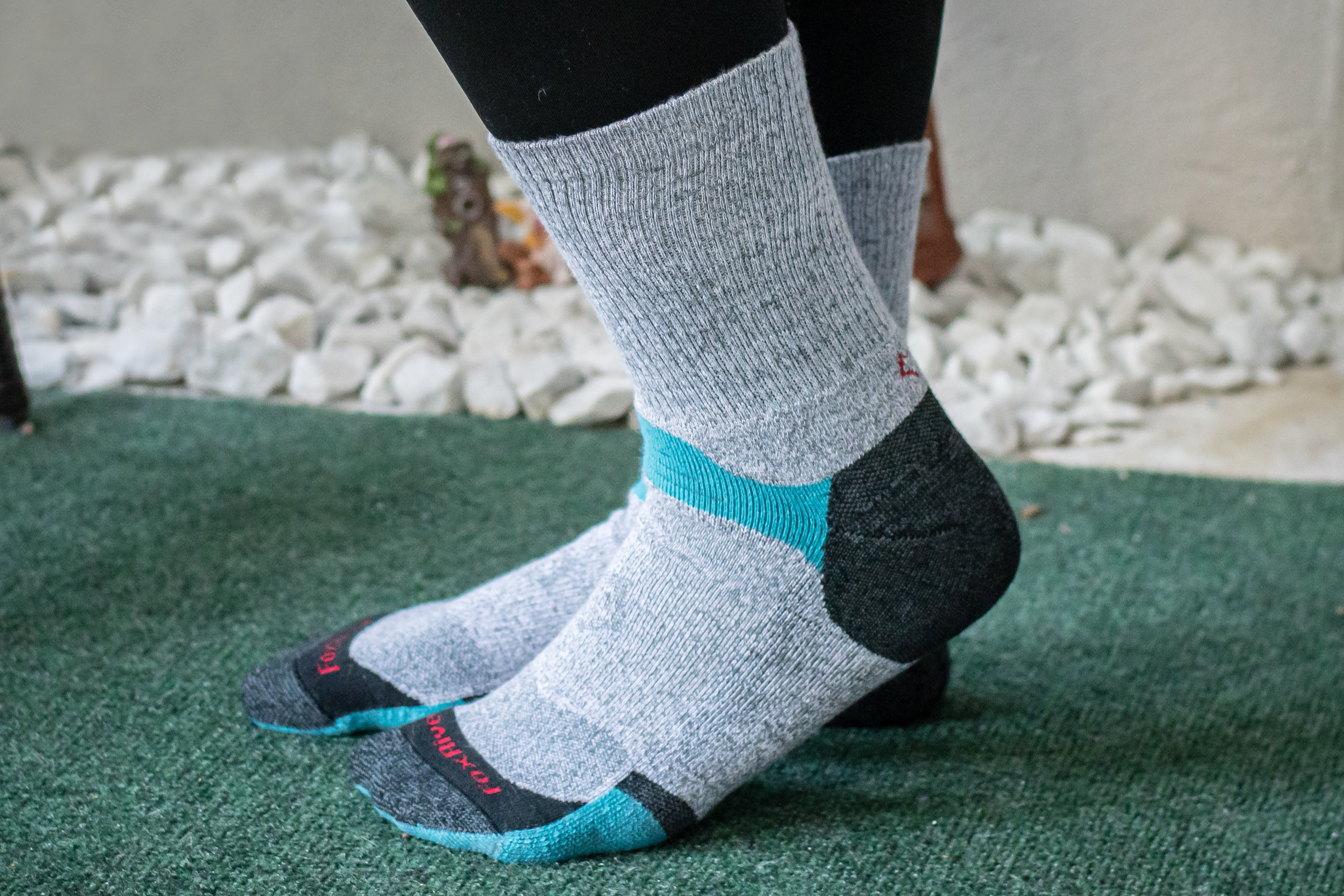 Why I love them: I feel that these Fox River socks give me the perfect support on my toes, ball of the foot, and ankle. Also, I really love the arch compression on this sock and how soft it feels on my skin. Bonus: the fit is perfect!
I did a 6.3 mile hike with these socks and they did not dissapoint. My feet were blister-free and did not sore at all.
Price: $18

Fabric: 40% nylon, 27% Merino wool, 27% acrylic, 4% polyester, 2% spandex
Features:
Reinforced heel and toe for added durability
URFit memory-knit construction system provides arch support and helps the sock maintain its form
Flat, smooth knit padding on toe seam
Cushioned sole for comfortable support
Breathable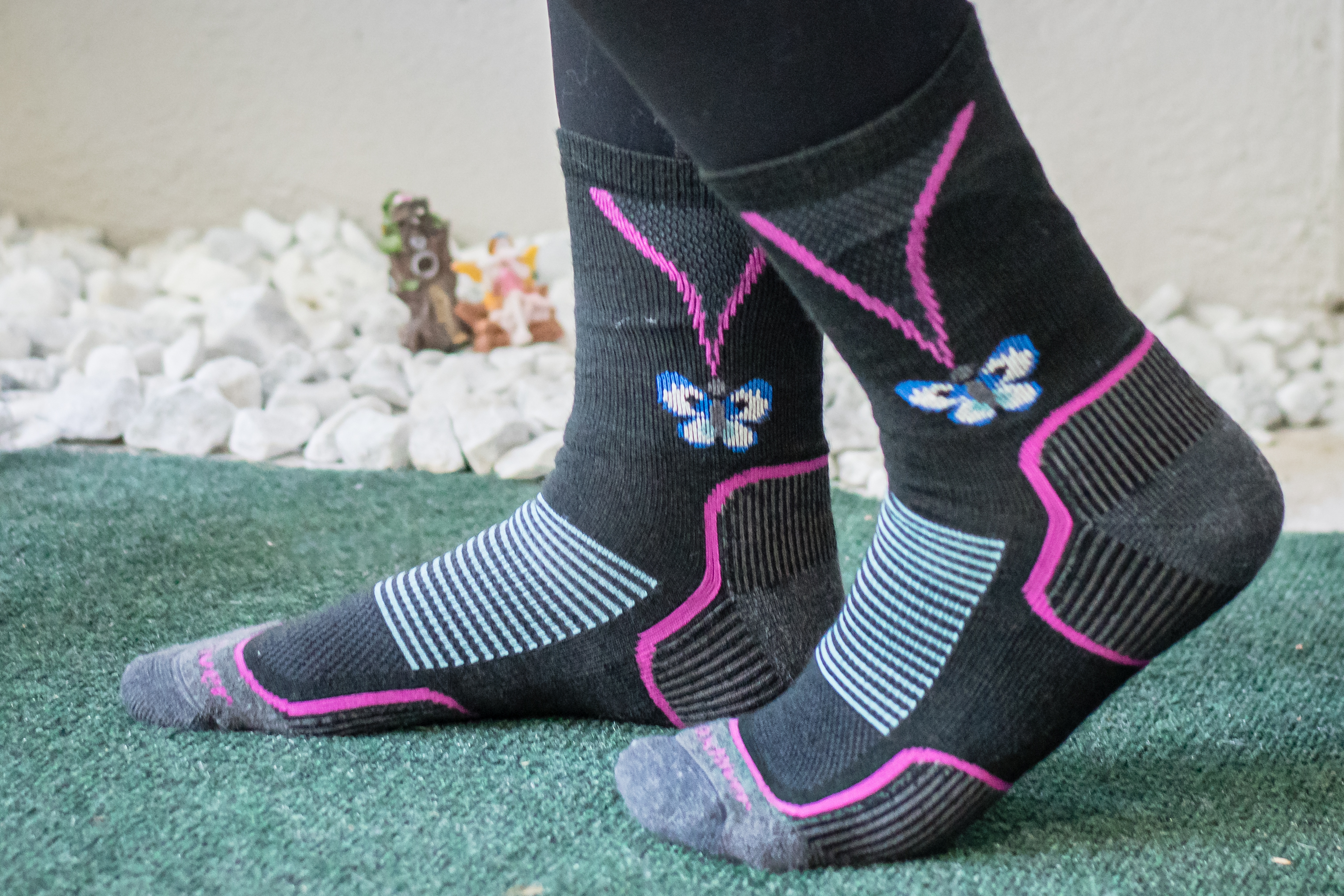 Why I loved them: This Fox River Basecamp Lightweight Crew differs from the previous in the fact that it provides slightly less compression. They still feel amazing on my feet! I really love the cushion on the sole as it makes a huge difference and feels great when hiking on trails with roots.
With these socks, I hiked 4 miles and my soles felt so good! I did not experience any soreness or blisters.
Price: $14 – Now on Sale for $6!
Fabric: 92% Polyester, 4% Spandex, 4% Other Fiber
Features:
Reinforced heel and toe for extra support
Anti-odor technology
Support band on the arch
Half cushion support that helps buffer impact
Breathable
Keeps moisture away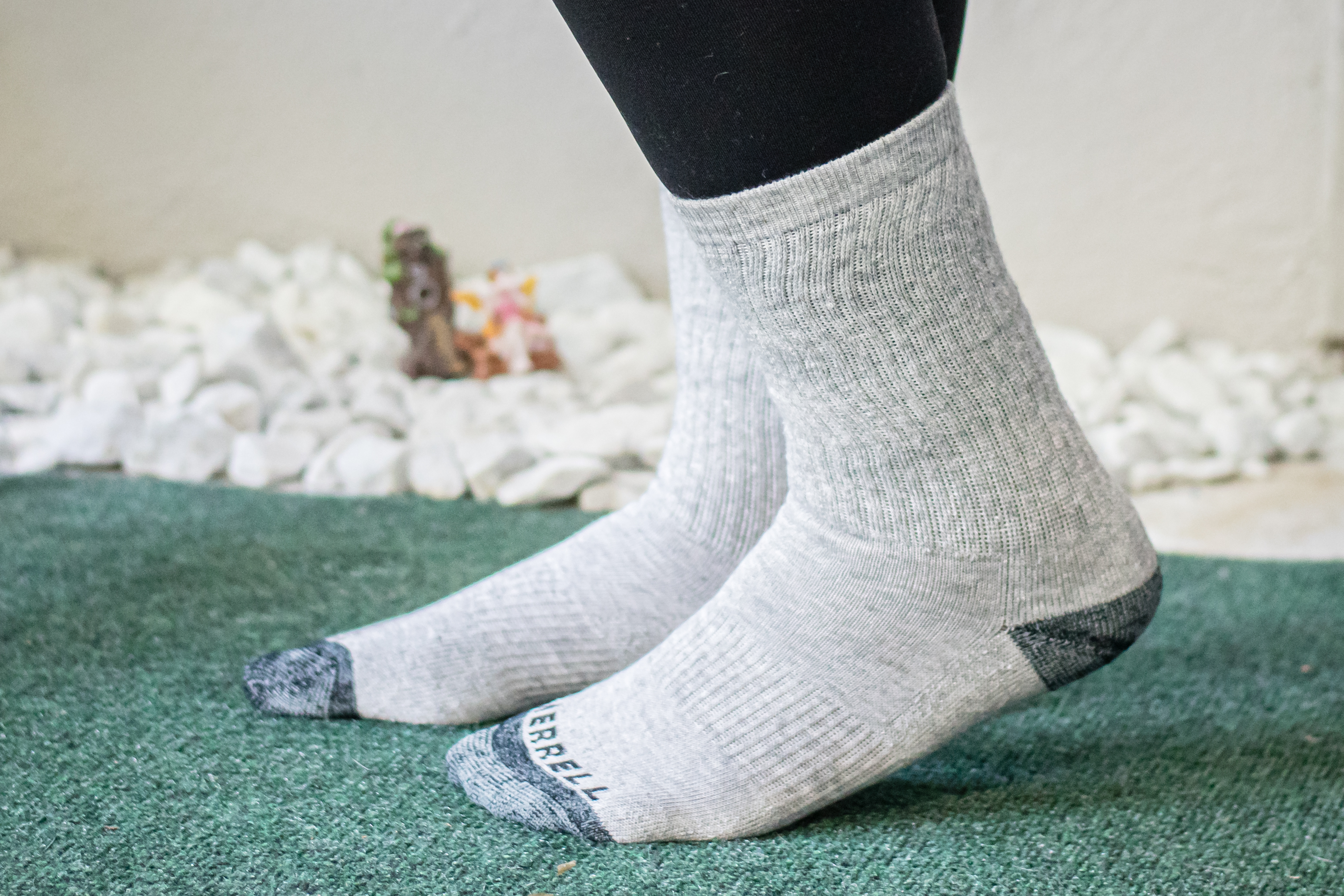 Why I loved them: I purchased these Merrell socks because I thought they would go perfectly with my Merrell Zion hiking boots. Being that I completely love my hiking boots, I guess I set my expectations way too high for the socks. Regardless, they are still really good socks. I love the cushion on the heel and toe, and they are very breathable. The one thing I don't like is the fabric–these aren't wool socks. Maybe that's the reason why they don't feel as soft on my skin as the rest of the socks on the top of this list.
I did a 4-mile hike with these socks and although they felt good, I did feel some kind of moisture at times. However, my feet were blister-free and I did not experience any soreness.
Price: $20
Fabric: 72% RWS merino wool/26% nylon/2% Lycra® spandex
Features:
Reinforced toe, heel, and Achilles
Stretch arch band
Seamless toes to prevent chafing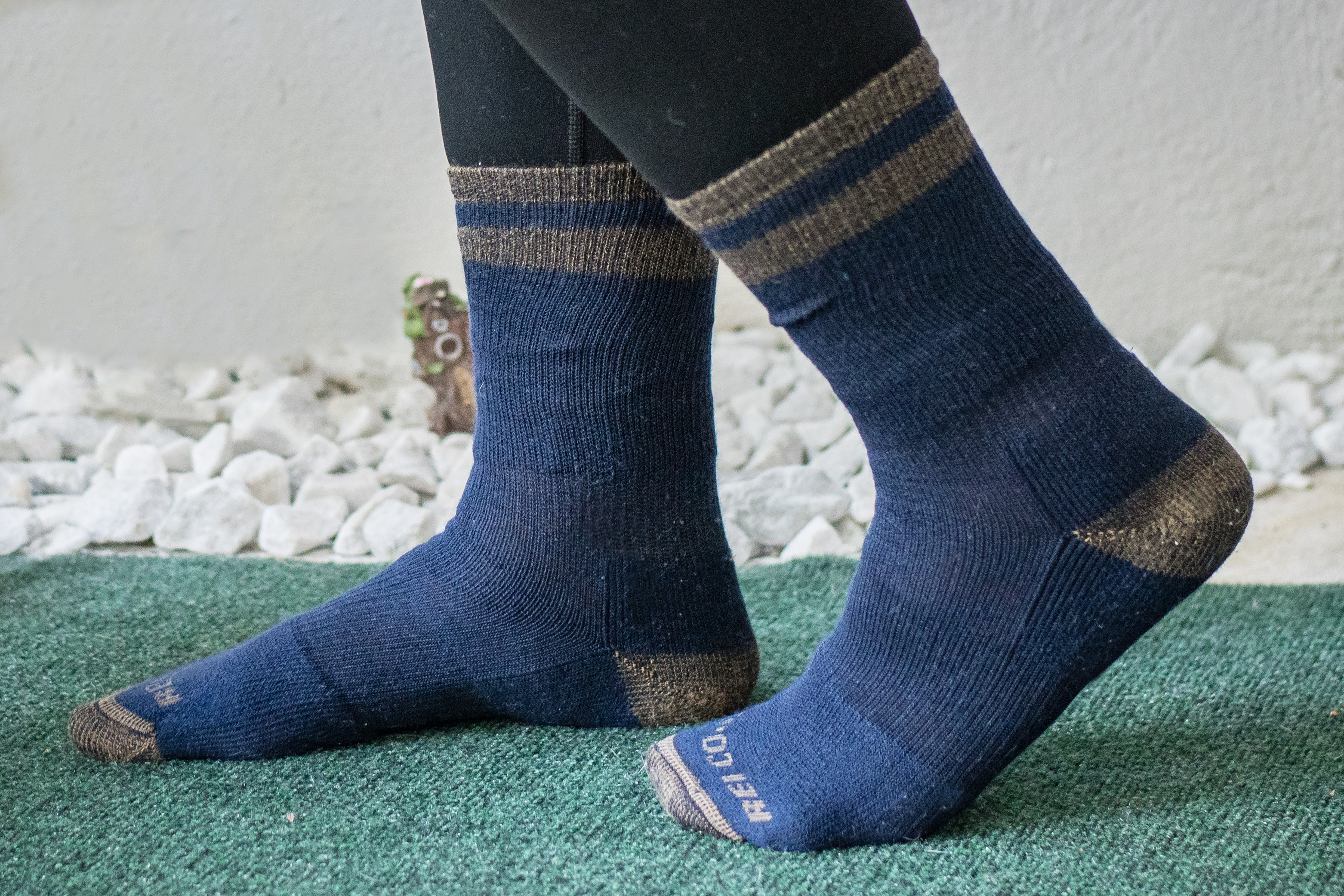 Why I loved them: Here's the thing about these socks from REI Co-op. The only thing that I love about these is the merino wool fabric which feels amazing. As for the rest of the features, it does not provide compression and has no real good cushioning. The first time I wore these, I hiked 5.7 miles they did okay but did not convince me much. Therefore, I decided to use them again during my experiment.
The second time I used these, I hiked 11.4 miles–which took me 5 hours to complete. By the time I hit the 4-hour mark, my feet felt really sore and I could feel the blisters on my toes and my soles. For this reason, although these are very affordable, I would not recommend these on long hikes.
Price: $15.95
Like I said at the beginning, I've learned things the hard way. Luckily, it's now been months since I found this little gem and I don't go hiking without it! Regardless, this doesn't affect the performance of the socks. Rather, it's just extra protection for your feet.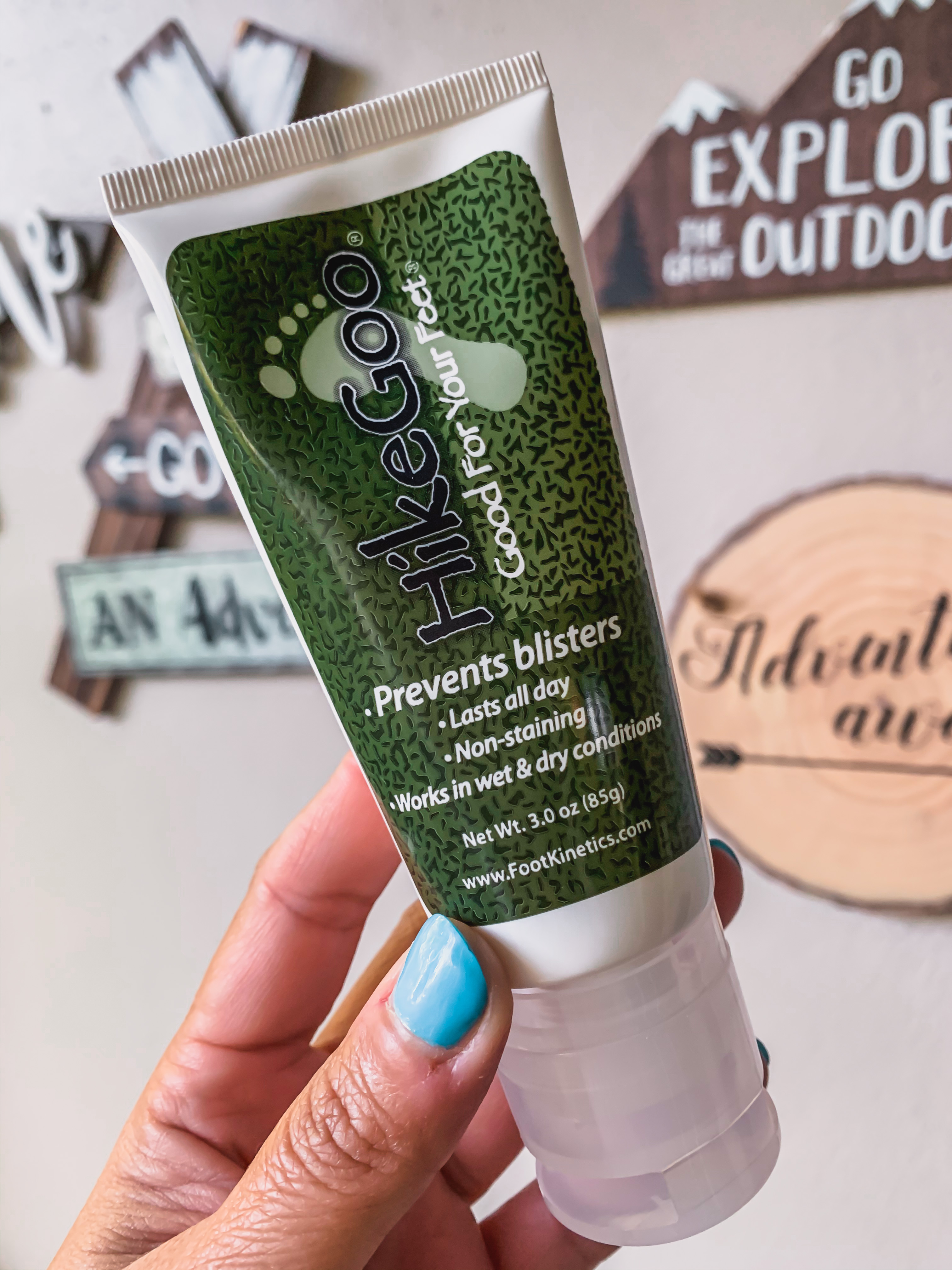 HikeGoo adds a protective layer between your socks and skin. This reduces friction and eliminates the possibility of blisters. It's a non-greasy formula that won't stain your socks and does not add moisture to your feet.
Price: $17.99
FTC Disclosure: This post is not sponsored. All opinions expressed are my own. Some affiliate links are placed above which means I receive a percentage of the revenue made from purchasing products via those links–at no extra cost to you!
---
Like it? Pin it! Share it!